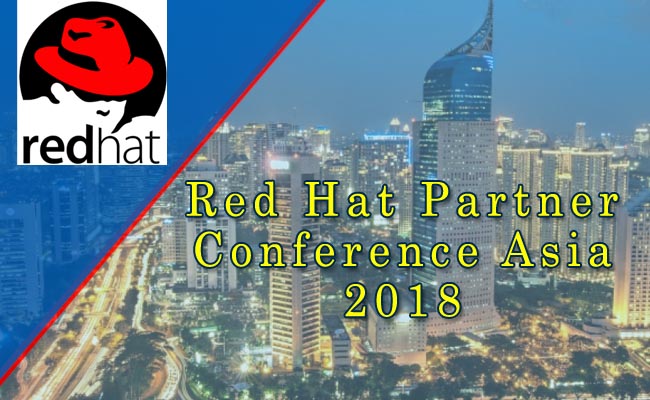 Red Hat has kicked off its two-day conference - the 2018 Red Hat Partner Conference Asia. The event is taking place in Bali, Indonesia from July 10-12 2018 and has witnessed the attendance of more than 225 Red Hat partners, distributors, system integrators, ISVs, OEMs and solution providers.
The conference commenced with the keynote presentations by Red Hat executives - including Dirk-Peter van Leeuwen, senior vice president and general manager for Asia Pacific; Arun Oberoi, executive vice president for global sales and services; and Mark Enzweiler, senior vice president, partners and alliances. Other notable guest speakers include Sandra Ng, group vice president of IDC Asia Pacific practice group, who provided insights into the partner landscape and market opportunities in the region.
With the theme "Stronger Together," the event featured several breakout sessions on key focus areas such as application modernization and integration, IT automation, containers, hybrid cloud and how open source can drive innovation across these areas. The conference also provided a platform for partners to exchange ideas, spark meaningful discussions, and network directly with Red Hat leaders and the partner ecosystem.
Combining this with the opportunity to hear from Red Hat executives and partners such as Deloitte, Intel, STT Connect and Microsoft on how to develop a winning business strategy with Red Hat solutions, the 2018 Red Hat Partner Conference Asia Pacific is the ideal one-stop forum for partners looking to take their business to the next level.
Josep Garcia, vice president, Channel Partners & Alliances, Red Hat Asia Pacific says, "In line with the theme of "Stronger Together," the 2018 Red Hat Partner Conference Asia Pacific aims to not only connect our partner ecosystem, but also provide the knowledge and expertise for them to better grow their business with Red Hat. By doing so, partners will be able to better advise their customers on the solutions that are necessary to accelerate their digital transformation and thrive in an increasingly volatile, uncertain and complex business environment."