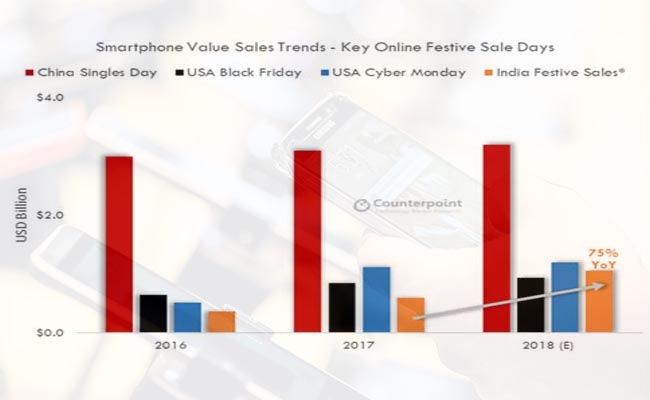 Smartphone sales during the upcoming Indian festive season are likely to hit record numbers both in terms of volume and value driven by annual events of platforms like Flipkart's Big Billion Day and Amazon's the Great Indian Festival Sale. These annual events are bringing exclusive online launches, aggressive offers and deals ranging from price cuts, cashback offers, exchange offers, no cost EMIs and a bunch of other promotional offers like screen replacement and extended warranty.
Commenting on the findings, Anshika Jain, Research Analyst, Counterpoint stated, "Online sales are estimated to grow faster than offline sales during this festive month as the top two online retailers are set to leverage pent up festive demand in the next 30 days. Flipkart's 'Big Billion Day Sale' (BBD) and Amazon's 'Great Indian Festival' (GIF) are likely to cross the previous year's sales benchmarks in terms of smartphone sales. This will be mainly driven by the multitude of new smartphone launches across different price points in the online channels this year as compared to last year. Flipkart has cornered maximum number of exclusives smartphone models offering more choice to the buyers and will likely take a lead in terms of volume sales vs rivals. However, Amazon is looking strong with its premium smartphone offerings with upcoming launches such as OnePlus 6T as well as its growing stickiness and value offered with the Prime programme."
Commenting on the channel performance, Tarun Pathak, Associate Director stated, "Online channel contribution in terms of total smartphone sales this year in India is likely to hit 36%, the highest in the world, with peak of 42% reaching during this festive season in October. India is still an underpenetrated market with just 35% of the population owning a smartphone. We believe, the e-commerce will remain one of the attractive channels growing in preference for consumers as well as brand even though offline channel still occupies a larger pie of the overall smartphone market. If we compare some of the leading sale events in China and USA such as Singles' day and Black Friday, India is quickly catching up in scale with respect to these annual events. This year, we are estimating that smartphones worth over one billion USD are likely to be sold in the next five days surpassing last year's entire smartphone sales during Black Friday in USA."
Key Highlights :
* Online sales are estimated to reach its highest ever share of 42% during the festive month of October and the five days of the festive online sales will contribute to more than 85% of the total smartphones sold in India in those five days.
* The top two e-commerce platforms will capture more than 90% share which is the biggest contribution ever in the Indian Online Smartphone market during October.
* Flipkart is likely to reach its highest ever share during this festive month driven by increasing number of online exclusive devices on its platform.
* While Amazon is likely to sell record number of premium smartphones on its platform driven by Oneplus 6, the upcoming OnePlus 6T and attractive offers on models like Galaxy S9 and older iPhone models.
* Around fourth-fifth of Flipkart's total sales are expected to be driven by Xiaomi, Realme, Motorola, Infinix and Honor while Amazon's sales are likely to be driven by Xiaomi, OnePlus, 10.0R and Honor.
* Xiaomi is likely to remain the market leader in the online channels as it is all set to capture over half of the total online market. Its Redmi 5A, Note 5 Pro, Mi A2 and Redmi Y2 are now listed with aggressive price cuts especially during the upcoming festive sales.
* However, this time Xiaomi is likely to face competition from brands like Realme, Honor, Asus and Nokia HMD which now have a portfolio spread across the popular price points during the festive season.
* Realme has allocated 1 Million devices for Flipkart's upcoming Big Billion sale.
* Huawei's Honor 7A, 9N, Honor 7S and Honor 7C are estimated to generate the volume for the brand due to various offers and multiple payment options available through Flipkart and Amazon.
* Samsung is also looking to drive volumes by bringing a couple of its best sellers on online platforms too. Its Galaxy S9 is now available for INR 42,990 (US$ 578) from its earlier retail price of INR 62,500 (US$ 840) on Amazon.
* Asus is likely to retain its place among top five online players as it got a positive response for Asus Zenfone Max Pro M1. Availability of multiple offers in association with Flipkart are likely to boost sales.
* The contribution of Chinese brands to total online sales is estimated to cross 70% mark this time.
* Other brands like Samsung, Apple and OPPO would also roll out offers on Paytm during the festive month, while Xiaomi will also hold its own promotional campaign on Mi.com.
* The ASP of smartphones in the online segment is likely to grow by 18% YoY during the festive period.
* Online as a medium is likely to be more popular for mid-tier devices (INR 10,000-INR 15,000) as they provide attractive offers and payments schemes to lure customers during this festive season.