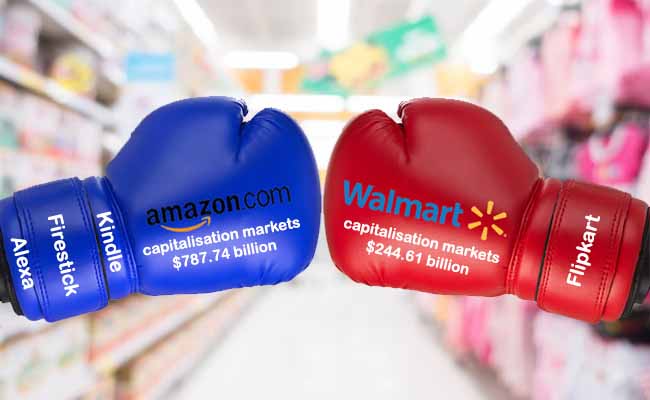 Interesting facts about Indian market, which has tempted the two retail giants( Amazon and Walmart) is the population of 1.3 billion and the potential of e-commerce market worth $38.5 billion (Rs2.5 lakh crore) and surging, whereas the internet economy at $125 billion (over Rs. 8 lakh crore) and expected to double by 2020.
The recent announcement by Amazon, a profit of $1.6 billion(of which $14 billion goes to buy up the stakes of investors such as SoftBank from Japan and Naspers from South Africa) in the quarter ending March 2018 - double of what it had posted a year ago. Last year, Amazon posted a loss of $3 billion for its international business, up 134 per cent from $1.28 billion in 2016, while international sales jumped from $43.9 billion to $54 billion.
The recent acquisition by Walmart to pay approximately $16 billion for an initial stake of approximately 77 percent in Flipkart, formally Flipkart Private Limited. The remainder of the business will be held by some of Flipkart's existing shareholders, including Flipkart co-founder Binny Bansal, Tencent Holdings Limited, Tiger Global Management LLC and Microsoft Corp. While the immediate focus will be on serving customers and growing the business, Walmart supports Flipkart's ambition to transition into a publicly-listed, majority-owned subsidiary in the future. The investment will help accelerate Flipkart's customer-focused mission to transform commerce in India , one of the largest and fastest-growing economies in the world and is also seen as indicative of India's importance to the world economy.
A question comes on why Walmart is interested in the acquisition of Flipkart, at a price of 16 billion USD. Walmart had dominated the brick-and-mortar retailing business in the US for long has, not been able to keep pace with the disruption that technology has caused. In a result, the share of aggregate sales through online retail creeps up in the US, the company has lost market share to Amazon. Since, its foray into the e-commerce realm has not been too successful.
Competitive difference between Walmart and Amazon is , Walmart is about addressing the retail segment, Amazon likes to call itself a technology company which also offers online retail. Its various tech offerings such as Kindle, Firestick, Alexa as well as Amazon Prime (which has over 100 million subscribers all over the world), contribute significantly to its revenue. In fact, its non-retail businesses such as advertising and Amazon Web Services are the fastest growing businesses. Its advertising business in the first quarter of 2018 grew by almost 100 per cent while Amazon Web Service grew by 40 per cent.
Walmart clearly saw in Flipkart's dominance an opportunity. The competition between the two would certainly intensify in India, as the Indian market to grow from 48 billion$ in 2017 to $ 80 billion by 2021, at an annual rate of about 19%. Walmart is going to be under pressure here due to the premium they paid for this deal to access to the Indian market.
When we see the financial health of Amazon, after committing a $5 billion (Rs32,500 crore) investment in 2016, has injected another Rs2,000 crore to fulfill its online grocery retail ambition. It is very much in the red in India. It is known to have faced a losses of about Rs. 3,000 crore in 2017. While the company is profitable as a whole, almost all its international businesses are loss making. Amazon's international business losses are known to have gone up by 29 per cent in the March quarter to $622 million. Still, Amazon's market capitalisation ($787.74 billion) is much higher than Walmart's ($244.61 billion).
Now, the question comes where this fight will lead to. Who will be the winner or loser. With the government of India, decided to allow 51 percent foreign direct investment in the multi-brand retail sector ,there is no doubt on millions of small retail traders vigorously oppose competing with foreign giant. A question arises on who will be the next rival to enter Indian e-commerce industry?