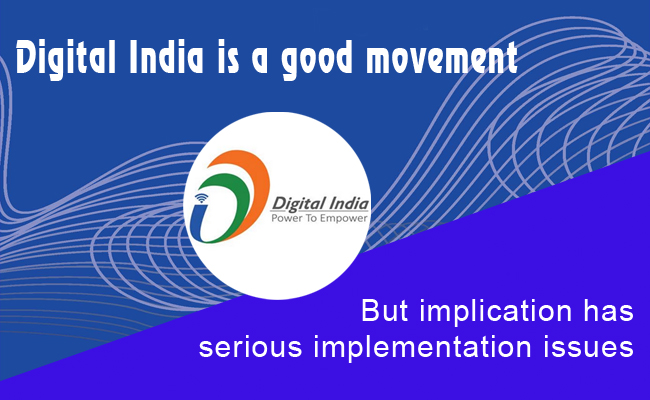 Talking about serious threat in cyber security is concerned, Dr. Herald D'costa spoke as Digital India, is a good movement initiated by the Government, but its implication has serious implementation issues. With almost 65% population of the country in the rural part of India it has become very crucial to create cyber security awareness among the citizens. India is the second largest user of Internet with almost 52 Crores using Internet.
Social networking crimes is a biggest problem our country is facing. With most of the servers located outside, it has become difficult for the police to trace the origin of the accused. The biggest victim of social networking crimes are women, who upload their photo's as DP. Personal information is shared in the public domain which becomes a via media for cyber-crime to take place
Along with social networking crimes Internet banking is another concern. With various apps freely available on the Internet, account details can be hacked and misused to commit fraudulent transactions. Spoofing, Vishing and Phishing have become a common trend to commit serious economic offences. Proper diligence has to be taken care to ensure that "Crorepati doesn't become Roadpati"
Speaking on how far the E-Purchase/ Paying Bills Online is safe today, Dr. Dcosta said, in the age of the Internet and Mobile devices, everything is digital, whether it is shopping or even Banking. More and more customers do their day to day transactions using a mobile app of their bank, merchant transactions done through E-Wallet or transferring funds with the help of numerous P2P (Peer-to-Peer) transfer apps. So the question begs, is all this safe? Yes, and No.
Yes, because there are numerous safeguards in place by the banks and other financial organizations to prevent fraud, theft and other mischievous activities online. There are more complicated passwords, multiple levels of confirmation & identification that generally ensure that your financial capital is safe.
No, because even despite of all this, nothing, and I mean nothing in the financial world or any other world for that matter is 100% safe. Hackers, cyber criminals and other mischievous lot try and steal their way into people's bank account and empty it within a few minutes.
So some of the do's to ensure that this doesn't happen to you would be:
· Make sure you do not share your identification ID or passwords to anyone. Even if you think they won't scam you, they may let slip this info and thus it can lead to possible theft.
· Always use trusted machines to carry out any financial transaction like personal mobile phone or personal computer. Doing transactions on a public computer or someone else's phone raises risk of fraud.
· Always make sure you logout/end sessions of online banking when done with a transaction.
Questioning on whether the use of BHIM app safe? Dr. Herald said, three levels of Security provided by BHIM app are:
· You come across the first level when you open the app – that is when it gets bound to the device ID and your phone number. You are quickly prompted to enter a PIN number to unlock and open the app.
· The second level of security is when the authentication takes place between the bank and the users mobile number registered with the bank. That is basically the one-time password.
· The third-level of security is the UPI PIN which is set by you and which will be required for every transaction you do through the BHIM app. The authorisation of the transaction happens via the UPI servers.
So essentially, the three-factor authentication includes, the binding of the device ID and the app, the registered mobile number with the bank and the UPI PIN that you set for transactions. Even if your phone gets stolen and someone replicates your SIM by giving fake documents to a service provider, they will not be able to transact on the app.
All of the above security can be broken if users download remote access app and share their login credentials to the imposter. Under this scenario even the best secured app can be breached and can be used by the criminal to commit a fraud
Speaking on the comparatively safest mode of payment (e-payment) on date, Credit Card payment or Debit Card payment is considered safe as of now. There are few websites which ask for Debit Card PIN to proceed further and do not give the option of OTP. On such websites it is advisable to use another mode of payment. As long as you follow the basis rules of Internet Banking you will be safe from cyber frauds. Almost insist on OTP for any online transactions done through plastic card
Lastly, does the antivirus help? Dr. Dcosta said, antivirus software are designed to prevent malicious software programs from embedding on your computer or your smartphone. If it detects malicious code, like a virus or a worm, it works to disarm or remove it. Most types of antivirus software can be set up to update automatically. Antivirus software is the line of defence so that cyber criminals who exploit flaws in software packages may not be allowed inside. You will be prompted when a Spyware will be tried to be installed to steal confidential and private information. But be aware to go for licensed version of an antivirus rather than going for a free one.