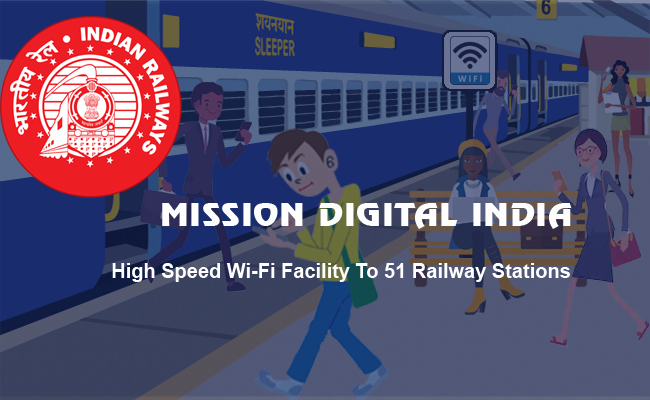 After four years waiting, Prime Minister Narendra Modi has launched his ambitious 'Digital India' mission to extend high speed Wi-Fi facility to rural railway stations. Around 51 of them coming under the ambits of both South Central Railway and East Coast Railway have got free Wi-Fi connectivity. Wi-Fi is offered as a free utility service under the brand name "RailWire" to commuters every day.
According to South Central Railway (SCR) officials, 24 'A1' & 'A' category Railway stations and 27 railway stations with rural background have been provided high speed public Wi-Fi service, under the aegis of RailTel Corporation of India (RCIL) in collaboration with Google. Till now, 400 railway stations across the country have got Wi-Fi facility including Vijayawada, Visakhapatnam, Guntur, Tirupati, Nellore, Rajahmundry, Eluru, Kakinada, Guntakal, Kadapa and Srikakulam — featuring in the list. Among the 27 rural stations having internet coverage are Gunadala, Godavari, Gannavaram, Krishna Canal and Nuzvid, to name a few. As of now, total 300 stations in the rural parts of the country are allowing people to enjoy the free Wi-Fi.
RailTel Corporation of India has collaborated with Google to execute the Wi-Fi project across the state on the lines of the Centre's 'Digital India' mission. "The internet speed is unrestricted for the first half hour in a day per user and then the speed drops off to 2 mbps so that other commuters on the platforms can browse the internet," said a railway official on a report.
Major features of RailWire -
* The public in surrounding areas and passengers can use the Wi-Fi provided by RailTel at rural railway stations
* The provision of high speed free Wi-Fi has succeeded in its mission of bringing connectivity to millions of Indians, leveraging on the nationwide optic fiber network
* Simple registration process through mobile OTP is enough to access the internet
* The internet speed is unrestricted for the first 30 minutes and thereafter the speed falls back to 2 Mbps to allow other users to connect and experience high speed browsing
* While the majority of users are in the age group of 19-34, efforts to help older and first-time users of the internet with ground staff has helped millions of users experience the internet for the first time
* Over 35% of users on the network are first-time Wi-Fi users. Over 50% of users access the internet multiple times in a day
* The Wi-Fi is extensively used by public to upgrade their skills