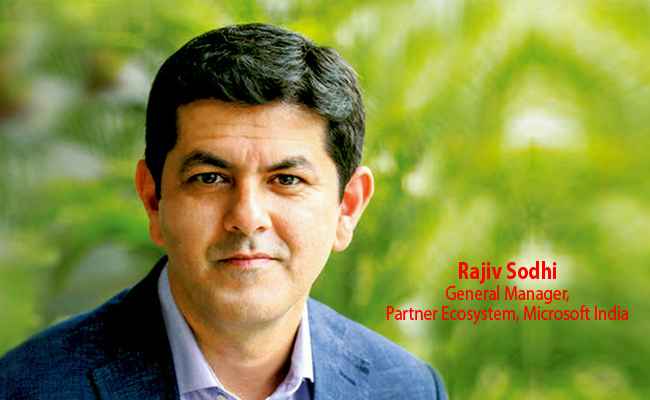 When Bill Gates and Paul Allen founded Microsoft over 40 years ago, their aim was to bring the benefits of computing to everyone. Today, Microsoft is aiming to do the same with Artificial Intelligence (AI) with the aim of "AI in every software". Our focus is not only to build AI capabilities into our most popular products and cloud services, but also to make them available to our partners to help them build their own AI-powered products.
Microsoft is working with its partners to build solutions using Microsoft AI, machine learning, cognitive services and IoT platform. In India, Microsoft is working with 650 partners to use these Microsoft services to build solutions in healthcare, education, agriculture, retail, e-commerce, manufacturing and financial services, which is helping in improving lives and transforming businesses.
Using AI
The Microsoft AI platform offers services, tools and infrastructure making AI development easier for developers and organizations of any size, and in any geography. Microsoft partners and customers in India are using and/or offering AI-based solutions across scenarios including customer segmentation and lifetime value assessment, demands forecast, multifactor customer identification system (face, biometric and speech), omnichannel analytics, fraud detection and credit risk assessment, and remote monitoring amongst others.
Some of the examples of Microsoft AI infrastructure deployment are as follows -
• Microsoft's AI, cloud computing, machine learning, satellite imagery and advanced data analytics are empowering small farmers to increase their crop yield, and in-turn their incomes. Farmers in Andhra Pradesh and Karnataka get text messages, delivered in Telugu and Kannada, on when to sow their groundnut crops; farmers in Telangana, Maharashtra and Madhya Pradesh receive automated voice calls that tell them whether their cotton crops are at risk of a pest attack, based on weather conditions and crop stage. These AI-based sowing advisories enabled by Microsoft have resulted in up to 30% higher yields for these farmers.
• Forus Health, a technology company with the mission to eradicate preventable blindness through innovative solutions has partnered with Microsoft to integrate AI-based retinal imaging APIs into Forus Health's 3Nethra devices. This will help Forus technicians identify eye fundus images as well as disease conditions better, in-turn enabling early identification and treatment for problems like diabetic retinopathy.
AI for all
Microsoft has also been enabling every person and business in India to benefit from digital services, by using Deep Neural Networks and machine learning to vastly improve the accuracy of language translations. Today, Microsoft products support text input in all 22 constitutionally recognized Indian languages, and the Windows interface itself supports 12 languages. Language translation is now available to all Microsoft users, whether they are using the Microsoft Edge Browser, Bing Search, Bing Translator, or even Microsoft Office 365.
In addition, Microsoft helps upskill partners using trainings and hackathons on AI, machine learning, Microsoft Bot framework, cognitive APIs and machine learning. Microsoft also provides practice resources for partners to help them develop new in-house capabilities and reach more customers.
Microsoft in India is also enabling digital transformation for the era of an intelligent cloud and an intelligent edge. Its mission is to empower every person and every organization on the planet to achieve more.
Microsoft offers its global cloud services from local datacenters to accelerate digital transformation across Indian start-ups, businesses, and government agencies. In 2016, Microsoft opened one of its eight Cyber Security Engagement Centers in the country, to address security needs of both public and private sectors.