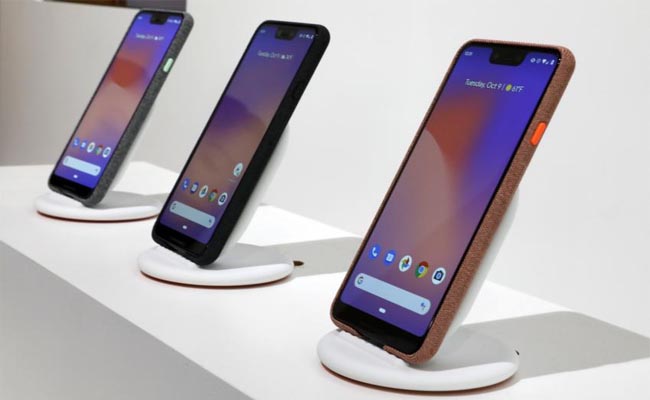 Google has announced two new additions to the #MadebyGoogle family – Pixel 3 and Pixel 3 XL. Both the phones are powered by AI for more helpful, thoughtful and personal experiences.
The smartphones are available in two sizes –5.5-inch Pixel 3 and 6.3-inch Pixel 3 XL – and three colours: Just Black, Clearly White, and Not Pink. They are crafted using Pixel's iconic two-tone design, which is refined by a soft-touch glass back that feels great in the hand.
Brilliant photos every time and supercharged selfies
Pixel 3 helps users get the perfect shot on the first try. Here's how the best camera gets even better with Pixel 3:
Capture smiles, not blinks: A feature called Top Shot uses AI to help capture the perfect photo every time. When user takes a photo, it analyzes the images just before and just after user presses the shutter, looking for those where everyone is smiling, with eyes open, and facing the camera. If there is a better shot, the camera will give the option to save it.
Get better zoom: When user zoom in using a phone camera, the image generally looks grainy. Super Res Zoom is a computational photography technique, traditionally used for astronomy and scientific imaging that produces sharp details even when zooming into the subject.
No light, no problem: Pixel 3 lets user take natural-looking photos in dark surroundings, all without a flash. With Night Sight, one can take bright, detailed, colourful shots.
No selfie stick required: Get everyone in the picture with Group Selfie, which gives 184% more room in selfie shots, be it with a large group of friends or an expansive backdrop.
Look… no hands! Photo booth mode uses AI to recognize that when user is smiling or making a funny expression, user is ready for a selfie. It snaps the photo on its own so that user doesn't need to reach for the shutter button – a good option for candids.
Super smooth video: When user wants to capture something that won't stop moving, Motion Auto Focus will make sure Pixel 3 camera stays in sharp focus automatically. And if user is taking a selfie video while walking or moving around, Pixel 3 brings front-facing video stabilization.
Unlimited storage for all of your photos and videos
Once again, one can save all favourite moments with free, unlimited photo and video storage in the original resolution. It's hassle-free, you don't have to think about backups. Come back to Google photos later and search for the beach photos you took on your Pixel 3, and they'll pop right up.
Fast and wireless charging
Pixel 3 comes with an 18 Watt fast charger in the box, which can give user seven hours of use in 15 minutes of charge. And with AI-powered Adaptive battery, Pixel 3 prioritizes battery power for most important apps to make phone last all day.
Alongside Pixel 3, the company also introduced Pixel Stand, a new, Qi-compliant wireless charger (sold separately at Rs.6,900). While charging in the Pixel Stand, the phone turns into a smart speaker and smart display powered by the Google Assistant, a photo frame, a control panel for smart home, and much more. If set an alarm, the screen will gently brighten over 15 minutes before alarm goes off, mimicking the sunrise and helping to wake up naturally.
Pixel 3 is IP68 water- and dust-resistant and has a security chip custom-designed by Google called Titan M, making it the most secure phone the company has built yet. Titan M enhances mobile security behind the scenes by protecting unlock credentials, disk encryption, app data, and the integrity of the operating system code itself. Powered by Android 9 Pie, Pixel 3 comes with the latest Android operating system.
Both the Pixel 3 variants come with high-quality Pixel USB-C earbuds and a USB-C Digital to 3.5mm headphone adapter in the box. Pixel 3 comes with dual front-firing speakers.
Pricing and availability
In India, the Pixel 3 is priced as follows:
Pixel 3 (64GB): Rs.71,000
Pixel 3 (128GB): Rs.80,000
Pixel 3 XL (64GB): Rs.83,000
Pixel 3 XL (128GB): Rs.92,000