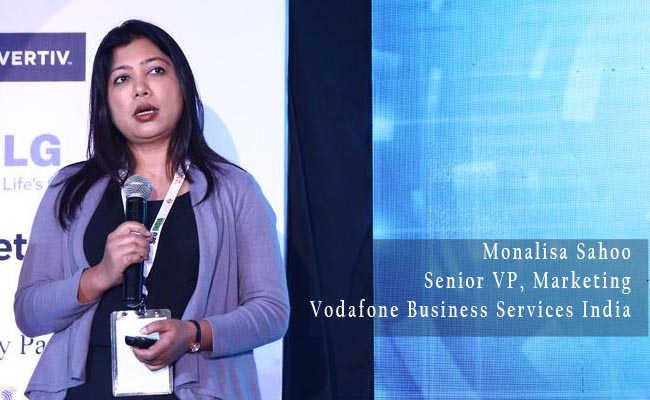 Brand Positioning vs. Marketing Tactics
Customer is at the center of Vodafone Business Services' brand strategy, and we take pride in industry-first innovations for engagement with our customers. Brand strategy for us goes beyond just traditional brand and communication elements, to content and experience led initiatives, and digital first experiences. Since Vodafone Business Services serves customers across the spectrum of large enterprises to SME, start-ups and the Government sector, we have a segmented brand engagement approach for each. Also we take pride in embracing digital and innovation for brand engagement, be it through marketing automation, digital insight tools, AI based engagements, to name a few. Our customers are evolving in this digital era, and we continue to push the envelope for our brand engagement which is driven by insights, impactful creative and powerful content, and digital technologies.
Our marketing most definitely reflects our way of business, because we build it around our customers and their success stories, that we have had the privilege of enabling. The role of marketing obviously differs across organization sizes. If we consider start-ups, marketing would be driven towards laying the foundation for the organization's future. With an SME, the focus would shift to scalability of the overall marketing effort. Last but not the least, marketing for large enterprises would be driven towards disruptions and innovations, and bringing them to the consumers before other players.
Good data for a Good Brand Strategy
In today's competitive scenario, data-driven marketing is the way forward for every organization. A well thought-through, robust marketing strategy is built on insights derived from tonnes and tonnes of data obtained through the application of smart technology tools. As an organization, Vodafone is increasingly adopting the digital way of working with its stakeholders – both internal (employees) and external (customers, vendors, etc.). These digital processes help empower the stakeholders, thereby fostering efficiency and transparency. One cannot help but stress on the importance of adopting digital systems, the key outcome of which is data and insights. At Vodafone, we are embracing data and insight-based decision making to improve customer experience andbrand engagement.
Digital Transformation with Cloud
India is on the cusp of a digital revolution, which will spread across the economic spectrum, from agriculture, rural-commerce, healthcare, education, financial & other services, manufacturing to infrastructure development. With the success of emerging technologies and platforms such as digital, artificial intelligence, robotics, IoT, cloud and analytics, there is an increasing adoption of newer models delivery and engagement which are applicable across industries.
Cloud is one of the most important growth engines for businesses in India today. One of the primary challenges that businesses, especially SMBs, SOHOs and mid-market businesses face today in procuring and adopting cloud, is finding the right cloud-solution and the right deployment and support partner for the same. Vodafone Business Services has aligned its cloud strategy keeping thesechallenges in mind, to build a cloud portfolio designed and built primarily for small and medium businesses. We have set up a first-of-its kind B2B cloud marketplace, called the Vodafone CloudStore (www.cloud.vodafone.in) in India, which is a fully integrated single window for businesses to discover, purchase, deploy and manage their cloud services.
Monalisa Sahoo
Senior VP, Marketing, Vodafone Business Services India