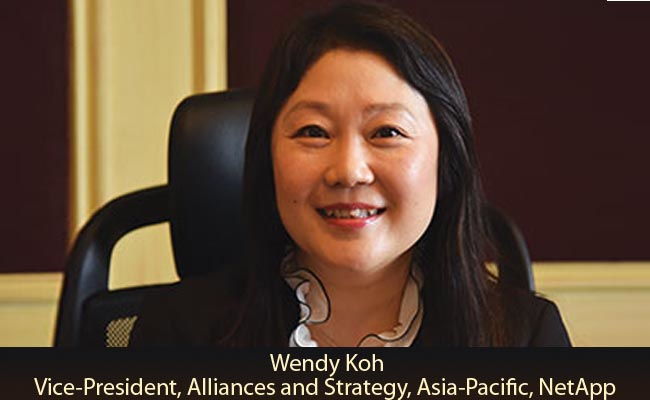 NetApp considers India as an important market as the country holds a lot of opportunities with the ongoing digital transformation. So the company looks forward to grow with its partners as they play a critical role in NetApp's go-to-market strategy. In a chat with VARINDIA, Wendy Koh, Vice-President, Pathways, Alliances and Strategy, Asia-Pacific, NetAppdiscusses about digital transformation as an opportunity, focus on channel partners and importance of a channel program
For NetApp, India is a critical market in the Asia-Pacific region. The company is growing in India at a faster pace and this indicates that channel partners will continue to play an important role in its go-to-market strategy. The company also makes sure about the profitability of its partners so that they continue their alliance with NetApp.
"India is certainly the fastest-growing market and it is very important for us in Asia-Pacific. Across the organization, we are growing. In India, we are growing faster than the market growth and this means that the whole channel engagement will continue to be very important equation of our go-to-market strategy. You will see us to continue to leverage on our partners, the channel program called the Unified Partner Program which includes sales, marketing, services and support as well as incentive programs to make sure that we fundamentally ensure that we address the profitability of our partners and we train and enable them so that they could continue to ally with our strategy, product line and continue to grow with us," says Wendy Koh, Vice-President, Pathways, Alliances and Strategy, Asia- Pacific, NetApp.
Digital Transformation

To keep pace with digitization, people are adopting digital transformation in a major way to reach to new customers, offer new services and leverage new technologies.
"The world is fundamentally changing and our customers are going through digital transformation to provide value so they are focusing on leveraging the digital transformation to help them to reach out to new customers, to create new innovation, to offer new services and to leverage all the new technologies to simplify and optimize their whole operations. It transacts to the three key IT imperatives. The first is to inspire innovation on cloud, to build cloud, to accelerate services offering and to modernize the IT infrastructure," explains Wendy.

Focus on Channel Partners

NetApp always ensures that its channel partners are empowered with skillset, trained and confident to position the company in the market. As go-to-market strategy, the company focuses on Flash Storage, HCI and Cloud Data Services.
"NetApp is very well positioned to address the three IT imperatives. We are the leaders in hybrid cloud data services. We help our customers to address the three IT imperatives. The go-to-market and channel partners are critical piece of our go-to-market strategy. We want to make sure that our channel partners are enabled from skillset and capabilities perspective, they are well trained to represent us in the marketplace and to be very confident in positioning and having a conversation with the customers to sell the solutions. So from a go-to-market strategy perspective, we focus on three key areas – Flash Storage, HCI (Hyperconverged Infrastructure) and Cloud Data Services," elaborates Wendy.
NetApp is targeting the commercial segment for growth along with its channel partners. It wants to leverage partner skillset and their relationship with customers to expand its reach and tap new customers.
"The second important piece is we want to deliberately leverage our channel partners to grow in the commercial segment. There is a space where we see a continuous opportunity for us to jointly grow. The intention is very clear, we want to leverage our partner skillset and capabilities, their relationship with the customers, their coverage to help us to address and acquire new customers, to have presence in the market or cities where we may not have presence today and to leverage the solutions, new technologies, IT imperative to help the customers to address their business requirements," discloses Wendy.
Importance of Channel Program

NetApp is concerned about its partner's profitability and also how they can increase their top and bottom line. So to help them differentiate in the marketplace, NetApp has comprehensive partner programs that help its partners to reach out to new customers or markets.
"The channel program is very important. We started looking from the lens of partners and understand their perspective. We get feedback that profitability, service and support and ecosystem solutions will help them to differentiate in the marketplace. We have very rich and comprehensive partner programs which will help our partners to invest in sales and marketing related activities so that they could further reach out to new customers, new space or cities or markets where we have not been before. Through this partnership, we can not only win together but the partners can also meet the top line as well as the bottom line requirements. It is also important for us to garner My Share of the partners. To get the My Share and commitment of the partners, we want to make sure that the salesforce is confident and comfortable to represent NetApp. And that is what we want to achieve through the enablement program," concludes Wendy.
"