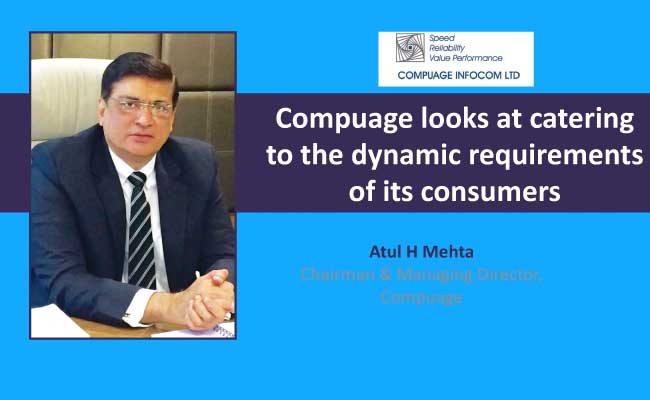 Brand Positioning vs. Marketing Tactics
Distributors are often known as the ones not putting in much effort for building brands as their on, but we at Compuage believe that we are the brand behind the 32 brands which we distribute. To establish the same we make sure there is enough brand recall. We have our marketing strategies in place ranging from Email campaigns, Telecalling, Channel Schemes, Channel Partner Meets and more. Compuage had organized a Thailand trip for 1200 partners which was one of a kind and the largest partner meet the industry has witnessed so far. All this is possible basis our clear brand strategy.
Compuage with its deep understanding of Global and Local requirements, provides not just Sales & Marketing, but Technical & Pre - Sales Support, Financing, Inventory Management, Business Intelligence Tools, Supply Chain Expertise, Managed Services and more to its vendors as well as 10000+ VARs and System Integrators. Also Compuage caters to dynamic requirements of all Consumers, SOHO, SMB, Mid-size, Large Enterprise and Government organizations through VARs, System Integrators across various industry verticals.
The advent of Marketing technology in the form of websites, landing pages, PPC Campaigns, apps and now with robotics and AI coming into picture, we understand the importance of technology and are working towards the same in this fast paced environment. While we are putting our tech efforts in place, we also believe that these things still cannot replace human connect especially in the channel (our target audience) and so we are leaving no stone unturned in training and developing our employees and growing our 800+ employee network presence in 800 cities and towns in India and SAARC Nations.
Good data for a Good Brand Strategy
We at Compuage believe raw data is of limited value until it has been integrated with other data and transformed into information that can guide decision making. We are constantly working on consolidating our data and improvising our strategies regarding our sales support, partner retention and guiding us on our decision making.
Digital Transformation with Cloud
2018 will witness exponential growth in cloud services.The growth of infrastructure and platform as a service (Iaas and PaaS, respectively) has expanded the number of cloud solutions available in the public and private sectors. In 2018, we expect to see many more organizations take advantage of the simplicity and high-performance the cloud guarantees. We expect data storage to grow exponentially in the coming year.
R&D driving Growth
R&D has proven to be a valuable tool for the growth of our business,based on the collected data for better marketing of products. It has helped us to put our efforts in the right direction, which is providing an edge over the competitors. Moving forward this year we will have greater emphasis on our R&D to take necessary actions to stay ahead.

Route to Market Strategy
With Compuage being at the forefront of distribution of technology products and services, we have to take lead in adopting latest technologies and solutions. Compuage has an IT spend budget of about almost 7%-8% of the Company's profit.