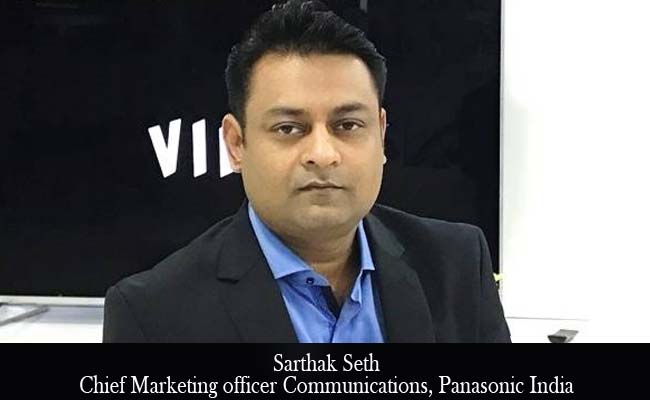 Sarthak Seth
Chief Marketing officer Communications, Panasonic India
Brand Positioning vs. Marketing Tactics
The heart and soul of every business success lies in its leadership and overall marketing capabilities. They all resonate with the holistic idea of brand development and recall. The biggest shift being witnessed in today's marketing world is the depth of research consumers are willing to dive into before making their final discussion over buying a product. In categories as diverse as electronics, financial services, and healthcare, consumers are increasingly ignoring push marketing, preferring instead to use the Internet to research products and decide which ones to buy.
Large and medium enterprises are companies who have the strength to invest in marketing activities beyond the conventional and powerful word of mouth practise. This however should further be accompanied with different and relevant marketing initiatives and should resonate with the brand's identity.
Although India has a long way to go towards completely digitizing itself, it has however remarkably accepted the concept and the opportunities it brings with it. With the exponential growth of IoT and digitization, connecting everything, securely and seamlessly, has become a true art. What is required, is for the industry to enable architectures that allow for convergence of a growing array of access technologies, end devices, sensors, software layers, analytics and solutions to come together. The enabling of such processes will open the gates to several new opportunities for emerging businesses within the new technological domain.
We at Panasonic India have been working continuously towards mobilizing new business opportunities within the digitized culture. We successfully installed Panasonic Toughpads within 3500 UP police cars under the 'UP 100' project to assist the police with the automation of FIR within their entire system. Under the government's smart city project we have triumphantly been able to deploy security and surveillance cameras in cities like Panchkula, Guragoan, some parts of Haryana and Uttar Pradesh as well.
R&D driving Growth
Panasonic is accelerating product innovations by leveraging developmental capabilities nurtured in India and have collaborated with TCS for our innovation centre in Bangalore. This will help us to bring together Panasonic's research and development efforts under one cohesive umbrella. We will invest INR 240 crore over the next five years in the centre.
We have also collaborated with TATA ELXSI for the establishment of an R&D centre in Bangalore, which will develop technologies such as artificial intelligence and robotics from India for its global operations and help in product designing in local product manufacturing. We also invested INR 115 crore for the setting-up of a refrigerator factory and have plans to set up a factory for Air Purifiers as well.