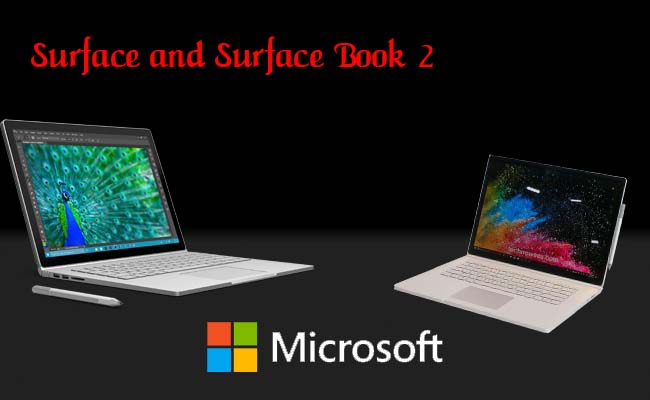 To empower enterprises and consumers to achieve more, Microsoft has unveiled its new entrants to its Surface family in India, the Surface Book 2 and Surface Pro. The expanded Surface family provides a strong portfolio of Microsoft devices that will allow users in India to unleash their creativity through Windows 10 features. They will empower every individual to be productive in their own way.
"Surface embodies Microsoft's mission to empower people to do more. Globally and in India, it is encouraging to see the rapidly-growing Surface community in both consumer and enterprise. Surface Book 2 and Surface Laptop have created new benchmarks in style, speed, security and enabling creativity. Today, we are excited to launch these innovative devices in India," said Anant Maheshwari, President, Microsoft India.
The Most Powerful Surface Ever: Surface Book 2
Surface Book 2 is up to five times more powerful than the original. With PixelSense Display, Surface Book 2 gives the power of a laptop, the versatility of a tablet and the freedom of a portable studio all in one beautifully styled device. Surface Book 2 features the latest 8th- Gen Intel Dual-Core or Quad-Core processors, and NVIDIA GeForce GPUs.
Every detail of the iconic Surface Book 2 design has been refined, from the dynamic fulcrum hinge for a more stable touch experience, to the improved, backlit keyboard and flexibility of both USB Type-A and USB Type-C ports.
The Surface Book 2 will be available in 13.5" or 15" options, and boasts an impressive 17-hour battery life for marathon productivity sessions. From running software such as Adobe Creative Cloud and Autodesk, to playing great games such as Forza Motorsport 7 or Gears of War at 1080p, 60fps, it is more than prepared to support users' workload for work or for play.
Performance Meets Style: Surface Laptop
Surface Laptop elevates design and performance in a sleek, elegant clamshell device. More than a traditional laptop, is engineered to start fast and stay fast with a 7th-generation Intel Core processor and up to 14.5 hours of battery life to last through the day. At just 1.25 kilograms and less than 14.5mm thin, the Surface Laptop fits nicely into your favourite bag, and is lightweight for users to bring around.
In addition, the Surface Laptop features a signature keyboard covered in luxurious Alcantara material, along with a quiet and responsive keyset, large precision trackpad, and soft palm rest for a new level of typing comfort.
Powered by Windows 10 in S mode, a new Windows experience streamlined for security and superior performance, Surface Laptop starts up and runs faster with InstantOn and an OS optimized for sustained performance. With the most battery life in its class, Surface Laptop redefines the perfect balance of pixels, performance and ultralight design.
Availability and Pricing
The devices are now available for retail purchase in India in online Microsoft stores (Amazon and Flipkart) as well as Croma, Reliance, Vijay Sales, and other authorized retailers in India. For commercial customers, the new Surface Pro will be available through more than 150 commercial resellers.
Configurations of Surface Laptop MRP* (in INR)
Intel Core i5, 128GB SSD, 8GB RAM, Intel HD Graphics 620 86,999
Intel Core i5, 256GB SSD, 8GB RAM, Intel HD Graphics 620 114,999
Intel Core i7, 256GB SSD, 8GB RAM, Intel Iris Plus Graphics 640 144,999
Intel Core i7, 512GB SSD, 16GB RAM, Intel Iris Plus Graphics 640 196,999
Intel Core i7, 1TB SSD, 16GB RAM, Intel Iris Plus Graphics 640 233,999
Configurations of Surface Book 2 MRP* (in INR)
13.5" Intel Core i5, 256GB SSD, 8GB RAM, Intel HD Graphics 620 137,999
13.5" Intel Core i7, 256GB SSD, 8GB RAM, NVIDIA GeForce GTX 1050 185,999
13.5" Intel Core i7, 512GB SSD, 16GB RAM, NVIDIA GeForce GTX 1050 222,999
13.5" Intel Core i7, 1TB SSD, 16GB RAM, NVIDIA GeForce GTX 1050 257,999
15" Intel Core i7, 256GB SSD, 16GB RAM, NVIDIA GeForce GTX 1060 222,499
15" Intel Core i7, 512GB SSD, 16GB RAM, NVIDIA GeForce GTX 1060 258,999
15" Intel Core i7, 1TB SSD, 16GB RAM, NVIDIA GeForce GTX 1060 295,999
*Inclusive of GST