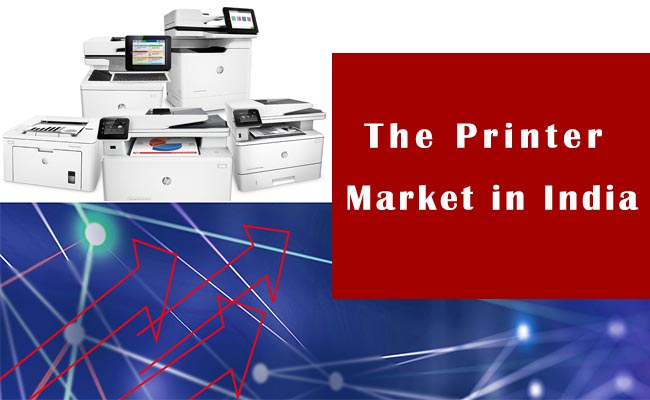 With businesses becoming digital, the printer market began to show a steady decline in the last couple of years. However, it was a great year for the overall printer market in India in 2017. Implementation of GST and a sharp cut in the taxation policy drove the market to new heights.

While the Indian HCP (hard copy peripherals) market sold around 3 million printers in 2016, it plummeted to 4 million in 2017 with inkjet printers continue to dominate the demand.

"The growth in the last quarter of the year was driven by GST implementation in the country continuing its momentum from the previous quarter. Government lowered the tax slab on Multi-Function Printers from 28% to 18% effective November 15, leading to increase in preference for MFPs post the slab change. From a YoY perspective, 2017Q4 performed significantly better than the demonetization affected 2016Q4. In the Inkjet market, ink tank printers continue to dominate the market with all the leading vendors focusing on the home and SMB segment to drive the shipments. Laser printer market witnessed a strong growth in the copier segment which saw high demand from BFSI sector, followed by Government," says Bani Johri, Market Analyst, IPDS, IDC India.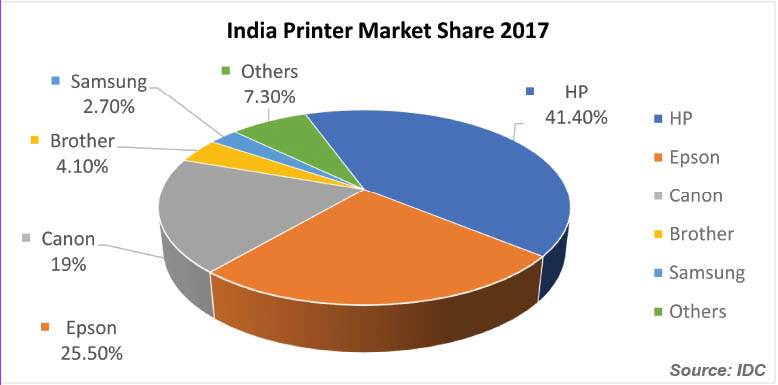 In Q4, 2017, the Indian HCP market saw 877,945 unit shipments, showing a 19% year-on- year growth. Japanese brands have strengthened their position in the Indian market. Three out of top five performers are Japanese companies, capturing almost half of the Indian market (48.6%). US-based brand(s) followed with 41.4% market share, a slight dip from 41.9% in 2017 Q3.

Inkjet shipments grew by 19.3% YoY with overall shipments of 415,135 units while laser printers including copiers also had a similar YoY growth of 19% with overall shipments touching 408,891 units. Indian laser market was the second-best market in the entire Asia- Pacific region, unit wise.

The previous quarter was even more momentous. The HCP market in India had a record high quarter crossing 1.1 million unit shipments in a single quarter. The market grew by 24.2% year-on-year (YoY) and 57.2% quarter-on-quarter (QoQ) growth, as per the latest IDC Asia-Pacific Quarterly Hardcopy Peripherals Tracker, 2017Q3. Inkjet shipments crossed 500,000 units for the first time ever in India with overall shipments touching roughly 579,371 units, a stellar growth of 25.5% YoY, while laser printers market including copiers also had its best quarter since 2014 registering total shipments of 486,947 units with 24.8% YoY growth.

Q3 2017 was anticipated to be better versus Q2 2017 because of the Diwali festive season. Despite a higher tax slab of 28% on multifunction printers, accounting governance created by the Government of India which requires businesses to maintain copies of electronic invoices to claim GST refund, largely contributed to the market growth. Several rounds of online festivals and sales by etailers in the months of August and September also played a part in the robust growth in the consumer demand in the printer category.
HP Inc. remained the overall market leader in HCP with a share of 41.4% and an 11.8% YoY growth. The Laser HCP (Printer-based) market, similar to 2017 Q3, remains dominated by HP with a 54.2% unit market share. It maintained its second position from Q3 in the inkjet market with a market share of 37.6%.

As per IDC India Monthly City-Level Printer Tracker, Laser HCP (Printer-based), demand from West Zone outpaced demand from East and South Zones. HP comfortably leads the way with 15.6% demand coming from West Zone. Delhi was second only to Maharashtra in terms of demand for Laser HCP (Printer-based) printers, overtaking the likes of West Bengal, Rajasthan, Uttar Pradesh, Tamil Nadu, etc.

Epson retained its first position in Inkjet with a unit share of 45.1% and unit shipments, totalling 187,019 units. It also witnessed a 28.3% YoY growth in Inkjet shipments, primarily due to the growth of its M-series models. Epson's deep channel penetration and focus on the home segment are the key factors contributing to its market leadership in the Inkjet category.

Addition of new channel partners in Mumbai and Pune and deep penetration in smaller cities such as Pune, where demand for ink tank printers outpaced that of some big cities like Chennai and Bangalore also helped them propel to the first spot in the Inkjet market.

Canon too had a good quarter with an overall growth of 25.3% YoY. Laser printers lead the way clocking a YoY growth of 18.8% on the back of a strong push by Canon in the copier market, especially in the colour segment. It retained its number-one position in the copier market with 33.4% unit market share as a result of its strong sales through its direct channel to large enterprises. In the Inkjet market, Canon saw one of the best YoY growth of 36.8% compared to other vendors largely due to strong channel and market push.