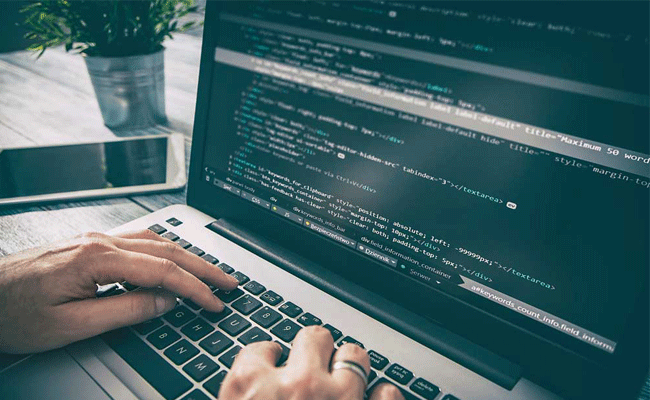 From a global perspective, the IT/ITeS market was pegged at $1.2 trillion in 2017 with $178 billion coming from outsourcing business. India remained as the top destination for outsourcing IT services with a 55% market share

India's software landscape is largely dominated by global software companies such as Microsoft, Oracle, SAP, IBM, SAS, etc. They are ruling the market for years now as most of the big-ticket customers from BFSI, retail, pharma, healthcare, FMCG and others use their enterprise-grade solutions for running businesses globally. However, things have changed during the last few years. Their business models have been challenged by small players and startups in recent years.

Even though Microsoft, Oracle and SAP still share most of the software revenues, the rise of new players is pretty significant. Relatively new players like Qlikview, Infor, Epicor and Salesforce, among others, began to solve the key challenges in the traditional enterprise applications, giving customers cheaper and easy-to-deploy solutions. Many startups in India have also come up solving the traditional problems in their new software systems. In other words, the rise of new players and startups is purely the result of new tech trends.

The software market is today also driven by the consumption of new-age technologies such as the data center modernization, cloud, Internet of Things (IoT), BYOD, etc. As the pressure on the traditional players in the banking, retail and FMCG, among others, has increased to offer better and fast services, the demand for more agile technology has increased. The software market is often caught in the demand cycle.



Overall Market size
According to NASSCOM, the Indian IT and BPM (business process management) market touched $154 billion in 2017 as against $130 billion a year back, showing a growth of almost 8%. From that sense, the industry contributes around 7.7% to the country's total GDP. The domestic IT services market is pegged at $38 billion in 2017, whereas the export business touched $117 billion in the same year. A year back, the domestic and export market size of the Indian IT software industry was $35 billion and $108 billion, respectively.

From a global perspective, the IT/ITeS market was pegged at $1.2 trillion in 2017 and the outsourcing market contributed $178 billion to that. India remained as the top destination for outsourcing IT services with a market share of 55%.


Going forward, the Indian IT and BPM industry is expected to grow to $350 billion by 2025 and BPM to contribute around $50 billion to that. On the other hand, Indian IT export business is expected to reach $126 billion, growing by 7–8% in the next fiscal. The industry is also expected to create around 150,000 jobs during this period.

Investment Dynamics
Indian IT's core competencies and strengths have attracted significant investments from major countries. The computer software and hardware sector in India attracted cumulative Foreign Direct Investment (FDI) inflows US$29.825 billion from April 2000 to December 2017, according to data released by the Department of Industrial Policy and Promotion (DIPP).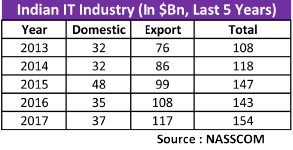 The leading Indian IT firms like Infosys, Wipro, TCS and Tech Mahindra are diversifying their offerings and showcasing leading ideas in blockchain, artificial intelligence to clients using innovation hubs, research and development centres, in order to create differentiated offerings.
Some of the major developments in the Indian IT and ITeS sector are as follows:

• India ranked ninth out of the 14 countries in the latest report of the Korn Ferry Digital Sustainability Index (DSI), outperforming countries such as China, Russia and Brazil.
• The flexi staffing market in the information technology (IT) sector in India stood at $3.04 billion in FY 2016-17 and is estimated to grow at a Compound Annual Growth Rate (CAGR) of 14–16% to reach US$5.3 billion by 2021
• Private Equity (PE)/Venture Capital (VC) investments in India's IT and ITeS sector reached $7.6 billion during April-December 2017.
• Exports of software services from India increased 10.3% year-on-year to reach US$97.1 billion in FY 2016-17, according to the Reserve Bank of India's (RBI) "Survey on Computer Software & Information Technology-Enabled Services Exports: 2016-17".
• Spending on artificial intelligence (AI) by Indian companies is expected to increase by 8–11% over the coming 18 months backed by rising influence of AI-based solutions across verticals, according to a report by Intel.


Enterprise software size and trends
Enterprise applications market underwent transformation since most of the players pursued customers in the midsection of most of the verticals. While there was a time when enterprise apps' market had slowed because of the tepid spending by Indian organizations, it has gained pace and become a lot more vibrant. Growth of the overall enterprise software market stands as a testimony. This is after a long time when the growth has moved to double digits. As discussed, it is due to the new wave of startups in the enterprise apps space. New startups and emerging players have added spice to the market through their targeted, core applications which are easy to deploy and do not need big setups. These players are wooing customers with their innovative solutions claiming to solve the age-old process-related problems in large enterprises. Sensing the growing competition, the traditional players are coming out with options and acquiring companies.

The growth is much better than the previous year which witnessed merely 6%. Digital transformation has been the biggest reason behind this growth. Large banks moved to digital platform, in an attempt to optimize their services. In addition, retailers and e-tailers also made IT investments in the future technologies.

Some major trends witnessed in the India software market include: 1) SaaS adoption and development, 2) Open-source software (OSS) adoption, and its broader market implications, 3) Changing buying behaviours and purchasing styles associated with digital business and the digital India initiative of Indian government, and 4) Demand for specialized software vendors that can deliver on the digital business vision.

Indian ERP Market
The Enterprise Resource Planning (ERP) software remains the first choice for large enterprises as they are faced with multiple organizational challenges and have to deal with day-to-day business complexities. Unlike the previous years, the growth of ERP segment has gone further. Major verticals such BFSI, retail, healthcare and manufacturing, mid-size companies embarked upon the ERP journey. While SaaS and cloud dominated the ERP segment, on-premise ERP did not vanish at all. There were companies which continue to invest in on-premise ERP solutions. One of the tyre manufacturers puts its money in the on-premise ERP recently. However, better licensing and pricing models on the cloud led software companies to tap the mid-size players. Players such as SAP, Oracle, Microsoft and others closely worked with their partners to deliver cloud-based ERP. Microsoft set up three of its data centers in the country in order to gain traction in the government.

CRM Market
Customer relationship management is growing rapidly across organizations. It is evident from the fact that several SMEs, SMBs and startups invested in SaaS-based CRM solutions. Large enterprises continued to invest in CRM technologies so that they can offer better services to their customers. E-commerce has been one of the frontrunners to invest in CRM. Even BFSI organizations continued their CRM investments.

Supply Chain Management
Delivery of goods is a big question. Many companies in the logistics, FMCG, e-commerce and manufacturing put their money in the SCM solutions. Thus, Indian Supply Chain Management and procurement applications market sustained its growth with more than 15% growth. According to an analyst firm, the SCM software market witnessed robust growth through sustained application demand, as supply chain continues to be a key source of competitive advantage in driving business growth objectives.

Indian Business Intelligence market
The BI and analytics market has majorly been influenced by the development of mobile, information, cloud and social media technologies which are disrupting the market. Self-service analytics engines are disrupting the space as organizations are able to deploy and use analytics on their own unlike before when the traditional BI tools could only be handled by an expert in the organizations.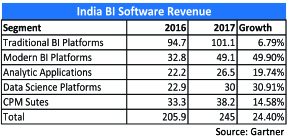 In India, there are several BI and analytics players. However, the market is led by SAP with a 26% market share, followed by IBM (23%), SAS (16%), Oracle (10%), Qlik Tech (3%) and Tibco (1%), among others. The BI market also reserves a great opportunity for vendors as this is largely a fragmented space where several players are active and trying to innovate with their applications.

Indian business intelligence (BI) software revenue is forecast to reach US$245 million (in constant currency) in 2017, a 24.4% increase over 2016 revenue of US$206 million, according to Gartner, Inc. This forecast includes revenue for BI platforms (comprising of traditional and modern BI platforms), data science platforms, analytic applications and CPM Suites. The data and analytics market is undergoing a significant change. Adoption of machine learning techniques for data management and analytics, the settling of hype around big data through more mature data storage, and processing and analysis solutions are a few of the changes.

Gartner also says the rapid shift to the cloud and hybrid data management through focused offerings, and the emergence of modern BI platforms, smart data discovery and self-service data preparation solutions, which are all fuelling the next round of investments.
Govt Initiatives To Drive IT Industry In 2019
The Government of India is going to explore new opportunities in various sectors such as providing BPO service from home, digital healthcare and agriculture to achieve the target of making India a $1-trillion digital economy. Some of the major initiatives include:
"The Government of Andhra Pradesh is targeting to attract investments worth $2 billion and create 100,000 jobs in the information technology (IT) sector in the state," stated Mr N. Chandrababu Naidu, Chief Minister, Andhra Pradesh.

Mr Manoj Sinha, Minister of Communications, Government of India, launched the project DARPAN – digital advancement of rural post office for a new India, for improving the quality and adding value to services and achieving financial inclusion for the unbanked rural population.
Mr Ram Nath Kovind, President of India, has dedicated four projects, such as Andhra Pradesh Fibre Grid, Andhra Pradesh Surveillance Project, Drone Project and Free Space Optical Communication (FSOC) to the people of Andhra Pradesh.

The Government of India is planning to set up Wi-Fi facility for around 5.5 lakh villages by March 2019 with an estimated investment of Rs.3,700 crore (US$555 million) and the government expects to start broadband services with about 1,000 megabit per second (1 Gbps) across 1 lakh gram panchayats by the end of this year.
Going Forward
Industry body NASSCOM says the Indian software services export market is expected to grow by 7–9% in the coming fiscal. This prediction is in line with the industry body's 7.8% growth prediction by the end of March 2018. However, the firm says there looms some uncertainty pertaining to the work visa rules in the US, the biggest market for India's software export business.