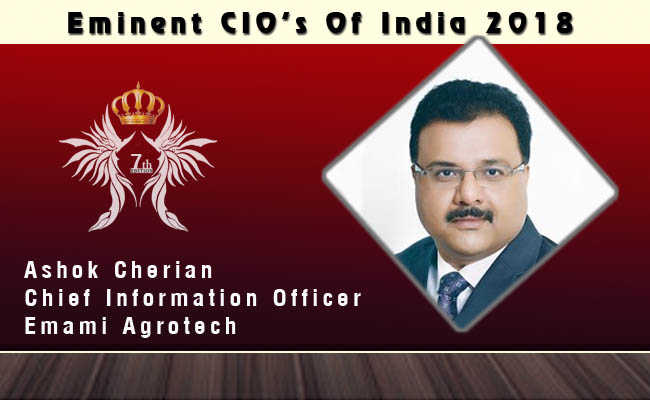 'With AI, Machine Learning coming in, skill addition will remain a challenge'



Commitment as a Tech Head
The days where the CIO is expected to work with new business models are going away. The new business models are completely digital and the CIO is expected to discover, engage the C-suite peers to refine the new digital models and create business growth and differentiation through the new age digital models. Going forward if any new product or service is not digitally enabled and channelized, it would not succeed. The organization needs to embrace digital transformation and ensure success and growth.



Experience Cell


Skill gap continues to be top of the line challenge for most of the CIOs. This challenge is growing in magnitude as the skill requirements are changing. With the advent of Cloud and also with options such as SaaS, the IT Team needs new skills to govern the show. "Unlearn" becomes equally important as "Learn".



Key Priorities


My priorities are equally balanced with focus on excelling in the capabilities we have and bringing in new and emerging capabilities. Today partners are also willing to engage with POCs and cloud and other platforms makes it easy to do with limited costs with a "fail fast" approach.


Adaptability to Organizational Changes
Enterprise Architecture is a subject the CIOs need to understand and adopt. This needs to be complemented by medium to long term IT strategies which are forward looking. Open architectures and less proprietary products and options are key to success. If the thought process of the CIO is not comprehensive and forward looking, the projects may still look successful but growth and adaptability will become challenges in due course which will drag the organizational agility and scalability.


Investment Plans for FY 18-19
The key agenda is developing differentiated business capabilities through digital transformation. The focus will be less on "keeping the lights on", thanks to cloud adoption and managed service model adoption and this gives me bandwidth to focus on new age cutting edge capabilities.

The new age technologies like AI, ML etc. are becoming more relevant and new skill addition will continue to be the biggest task for a few more years. With the plethora of new age technology options available, CIOs are much better poised to do so and they should take this opportunity ahead.