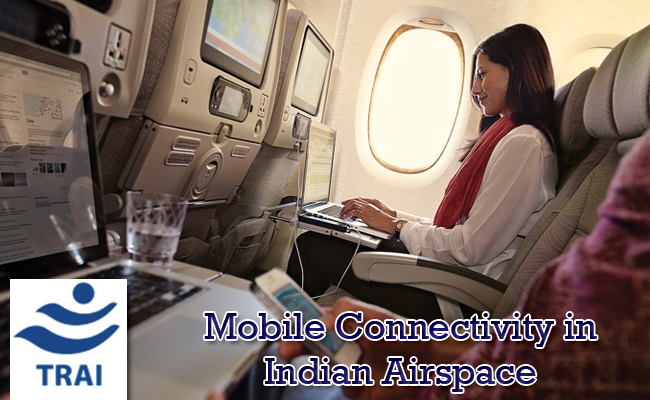 The Telecom Regulatory Authority of India (TRAI) has approved the proposal of in-flight connectivity in the Indian airspace. The proposal was on the use of internet and mobile communications on board aircraft flying in the 9.6 million sq. km. Indian airspace (includes space above the Arabian Sea and the Bay of Bengal).
As per the reports, Telecom Secretary Aruna Sundararajan said that almost all the recommendations made by the Telecom Regulatory Authority of India on this have been accepted. The government is accelerating the process and within 3 months it should be ready.
As part of the in-flight connectivity proposal, the Telecom Commission will initially allow Wi-Fi on flights and slowly get into voice services as well. Now airlines will be free to offer Wi-Fi services to passengers. As of now, no decision has been taken on the pricing.
In January, TRAI issued a recommendation to allow both telephony and Internet services on domestic flights. Both the domestic and international carrier passengers would be able to make calls and web surfing after an aircraft fly above the minimum height of 3,000 metres, the body has said in its recommendation.
The internet services will be allowed through Wi-Fi onboard. For calling services, the airplane/flight mode on the phone will have to be kept off. A separate category of IFC service provider should be created to permit IFC services in the Indian airspace where service provider should be required to get itself registered with the DoT.
Earlier in August last year, DoT had asked TRAI to furnish its recommendations on licensing terms and provision of in-flight connectivity for voice, data and video services and associated issues related to entry fee, licence fee and spectrum.
Currently, telecom service providers pay 3-6% and 8% of their adjusted gross revenue as spectrum usage charges and licence fee to DoT, respectively.