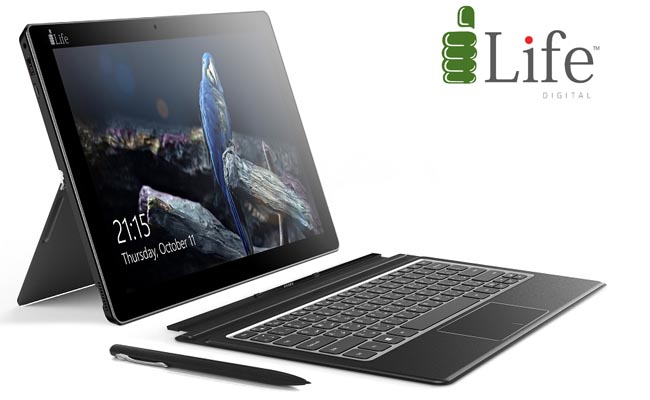 US-based leading electronics maker, I-Life has introduced its flagship ZED series affordable notebooks and tablets for the Indian market. I-Life has launched three products – ZEDBook 2-in-1 detachable laptop (in gold and grey colours), ZED Air laptop (in silver and grey) and ZED Air Pro (in silver) an ultra-slim notebook. I-Life also announced its exclusive tie-up with Flipkart to sell the products targeting entry &first time laptop buyers.
ZED Series notebooks and tablets, according to IDC, ruled the top spot in the entry-level category last year in the Middle East, Turkey, Africa and CIS region. For Indian customers, all the products are attractively priced in the range of Rs.10,000 – Rs.15,000 and can be pre-booked exclusively on Flipkart. The company will start delivering orders from May 3 onwards.
Deepak Bhatia, Global Director for Sales and Marketing, I-Life, said, "I-Life is happy and proud to launch its international products in India. In our maiden launch, we bring our flagship ZED Series which is loved by budget-smart consumers across Middle East, Turkey,Africaand the CIS Region. ZED series notebooks are known for premium features,andaffordable prices, like the ZED Air Pro (ultra-slim) notebook is the lightest in its categoryweighing 1.16 kg only."
On partnering exclusively with Flipkart, Bhatia said, "Flipkart's unparalleled reach and service delivery made it a natural choice for our entry strategy for the Indian market. We are happy to partner with Flipkart to bring world-class products. Indian consumers' bold and aspirational needs require an equally amazing product. It is our mission to develop innovative products that enhance people's lives. Our products will address the white space in the affordable computing category, giving customer wider options, in India."
Hari Kumar, Flipkart's Senior Director – Electronics, said, "We are excited to partner with I-Life to launch its range of budget-smart laptops exclusively for the Indian market. We are confident that I-Life's product proposition coupled with Flipkart unique capabilities to deliver the widest range of products seamlessly across the length and breadth of the country will go a long way. This would help in catering to the demands of the First Time Laptop buyers and thereby, grow the Laptop market."
On behalf of Microsoft, Ricardo Davila, WW LDP Lead, said, "Microsoft congratulates I-Life for their entry into the Indian market, where we see tremendous opportunities for our Windows devices for growth. I-Life has been a fast-growing partner for us in the Middle East and Africa in the last few years. We believe India customers will enjoy the portfolio of devices i-Life offers with Genuine Windows."
For after-sales services, it has signed up with F1 Info solutions, India's leading service provider which will service more than 4,500 pin codes within 40 km of service centres.
Abhijit Upadhye, CEO, Jeeves, F1 Solutions, said, "Flipkart is the number one destination for buying electronic items. We welcome I-Life in the Flipkart family. Jeeves and F1 Info Solutions have robust service capabilities and are committed to provide full after sales service support to our customers. Flipkart customers can walk into our authorized service centres to get repairs and spares within the warranty period."
I-Life notebooks and tablets are powered by the latest Intel Atom Quad Core Processor running on Windows 10 Operating System with 2GB of DDR3L system memory, 32 GB storage, an Intel HD graphic display and up to 10-hour battery life. All products are designed to give the best Windows 10 experience and come with a 1-year warranty.
The ZED series comes with built-in speakers and mic, slots for USB, HDMI and a Micro SD Card reader. ZED Book tablet has front and rear cameras, while ZED AIR and PRO laptop models have built-in webcams.
Specifications:-