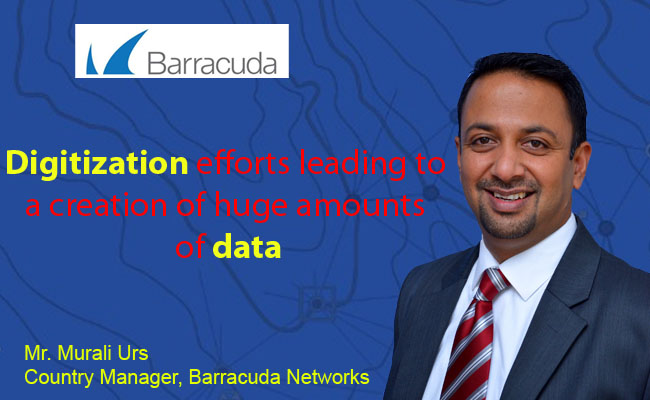 At Barracuda, we focus on Customer's needs and create Innovative products that solve important needs of its customers - our solutions help customers address security threats, improve network performance and protect and store their data. We are a single source vendor for security, storage, cloud, application delivery solutions and support frees your resources with unmatched flexibility in terms of our purpose-built hardware, efficient virtual appliances and convenient cloud services that let organizations deploy IT their way
Digitization paving way for opportunities...
Barracuda Networks offers solutions for two important problems – security and data storage. Both these categories have immense scope in India especially due to the nature of solutions and the pricing options.
All the digitization efforts will lead to creation of huge amounts of data. This data will have to be stored and backed up in a way which will allow easy retrieval. Barracuda Networks' hybrid solution of on-premises backups augmented with cloud based storage is a great solution for this problem. With this solution, customers do not need to manage large number of discs, nor do they have to have the additional headache of managing and duplicating storage media.
As organizations, both private and public move towards digitization; they will not only build their digital networks but will also need to build in scalability, reliability and security into their IT platforms. This again is a great opportunity for Barracuda Networks. Barracuda's suite of security products offers a complete range of security that would be required for the organizations looking to embrace this change.
Digital technology is impacting all sectors, be it Government, Finance, Manufacturing, Healthcare or anything else. Internet acts a force multiplier for the digital technologies helping the organizations increase their reach to their customers, geographically distributed sales team, vendor organizations and more.
Many State Governments are already doing phenomenal work in bringing their services to the public using the digital platform. Beyond the basic infrastructure need of electricity, stable and secure and reliable connectivity would be required to service the far flung corners of the country. But this has to be done within limited budget for technology and man power. Barracuda Networks understands these constraints and has built solutions that are easy to use and manage.
Most of the financial institutions in India are expanding their reach via the internet. This of course has to be scalable and secure. Barracuda Networks has years of experience in providing solutions for these problems.
While organizations need to consider various aspects such as cost, reliability and more while building their plans – it is very easy to come up with a complex solution that is difficult to operate. This presents a great opportunity for Barracuda Networks which is in the business of providing cloud connected security and storage solutions that simplify IT.

Commitment to R&D...
Barracuda is committed to R&D to drive growth supported by creativity and innovation. Barracuda has announced a number of firsts, including being the first major security appliance vendor to tackle the image spam problem with an integrated optical character recognition engine, the first to announce PDF spam protection, and the first to implement Predictive Sender Profiling techniques such as multi-level intent analysis to combat the latest forms of spam.
It is true that Barracuda leverages open source technologies. In fact, open source technologies have been heralded in security applications because of the scrutiny and ongoing contributions from security researchers worldwide. Barracuda utilizes open source technologies for commodity functions in its appliances, including the Linux operating system, SpamAssassin, and ClamAV. Use of open source enables its R&D teams to focus on technologies that add customer value beyond the commodity functions.