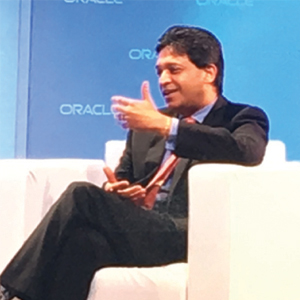 HDFC Bank is now the country's second largest private sector lender, put in place a data warehouse and started investing in technology that would help it make sense of the massive troves of unstructured data captured by its information technology (IT) systems.

Banking is a technology business and CIO brings technology skills. We are in the business of making money by moving money. Banks are the only merchants who want their products back. If we lend money, we want it back. Our core business is banking, and technology is a platform to offer it in a more sophisticated, more accurate and faster manner, and to give a better experience to our customers. This experience which they will carry and continue to consume is not just products. So we will continue to focus on IT strategy. We will take the best of the breed and try to improve them, customise them, and may be enhance them to suit our process. We take a lot of pride in our back-end process. That's how we have the least NPAs.

Technology is a key enabler and facilitator to the critical goals of HDFC Bank allowing it to make systems and processes even more efficient. Since inception, our Bank continued to invest heavily in technology to provide better products and superior customer experience. All my core banking is Oracle. The entire hardware infrastructure runs on Oracle Engineered Systems. For core banking, for core lending, for loan origination system, it's all Oracle. Our strategy is to always work with two strategic partners. Our IT team also continues to experience innovations happening in the world which could be useful for us to scale our systems, provide more stability faster and better experience to customers so that we can work with other partners.

The second part is the innovation in the bank itself. Look at our 10-second product, the 10-second loan. Do you think anybody in the world yet has a 10-second loan? Digital is all about scale and that's where we bring technology together with product innovation. 10-second loan is one thousand per cent analytics. You click, and the loan is in your account.

We focus heavily on Big Data and analytics tool. Today they are using it to drive revenue, get valuable insights on customers. HDFC Bank has made significant investments in technology re-engineering, system design and architecture and smart storage capacity. Your Bank maintains state-of-the-art IT Infrastructure, Products and Services to meet growing business needs.

Lastly, there are ampule of opportunities are coming from analytics. If 40% to 50% business is not coming from analytics then U R out of the business.
Munish Mittal
Group Head-IT & CIO
HDFC Bank
Essar CIO Jayantha Prabhu to head AGC Networks India
Jayantha Prabhu to head AGC Networks India

The technology veteran has been appointed as the India business head of AGC Networks, in addition to his role of CIO at Essar Group. Apart from the CIO of the Essar Group, is also the India business head of AGC Networks.

AGC Networks, a global solution integrator. Prabhu has played a key role in driving digital transformation and using technology for business processes at Essar. He boasts of 25 glorious years of experience in the industry. Under his leadership, Essar became one of the earliest companies to adopt digital transformation and he hopes to leverage his wealth of experience at AGC as well.

Prabhu said, I have picked up important lessons in my CIO role at Essar, and have been deeply involved in managing change from an IT perspective and the learnings have been invaluable. Top priorities of Prabhu in AGC is to focus on partnering with select OEMs for IT infrastructure, information security, and enterprise applications stacks in order to help organizations in their business transformation drives.
Rajesh Uppal, Executive Officer (IT) and CIO, Maruti Suzuki India Ltd.

With the changing in the customer expectations , they have lots of exposure to visibility across the globe and their expectations are very similar. So, as an organization, how to support and manage their expectations is going to the second big area which we have to work on. Third is the value or efficiency of the business has to improve continuously. Continuous innovation and improvement in business, compared to competition, will also impact our business altogether. Last and not the least is compliance. The compliance requirement to our industry is going to be very high, right from security, government and global regulations.

Organizations are continuously innovating, setting a new benchmark or continuously raising the bar is one of the most important things an organization needs to work on. Going forward, not only IT level capability, but also business level capability needs to develop. Here, the ability of user to exploit the IT solution and ability to change as an organization are the key challenges.
Rakesh Bhatt, COO, Bajaj Finance spoke about how the company is moving from good to great by reinventing the business which is exciting by adopting customer centric Business model, found a way to make the process of disbursing and applying for loans—for consumer durables—easier. Prime objective is on how to eliminate the amount of time and documentation a customer needs to submit to avail a loan. The answer lay in an EMI card.
This card is like acts as a pre-approved loan and is given to customers who have a good track record of repaying loans. Customers can buy products on 0 percent finance, besides using the loan amount remaining in the card for future purchases.


This innovation has been a game-changer in terms of customer service. Approving loans is now a matter of seconds, and the need for tedious documentation has been eliminated. Even loan receipts are handed over instantly.
"
"