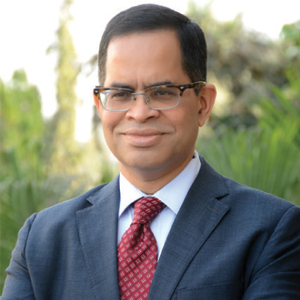 In an exclusive interview with Mrutyunjay Mahapatra, DMD & CIO, State Bank of India and VARINDIA on his vision on digital transformation in the bank by deploying cutting-edge technologies for seamless delivery to the customers by using technology as a tool and commitment in 2017

Technology Transformation in SBI

Technology has transformed delivery of banking products and services. Consumers across segments of retail, corporate, treasury and forex are moving to digitalization. Seamless integration of their requirements with banking channels is moving to IT-driven strategies. Information technology is being leveraged in delivering ease and efficiency to customers. This is driving automation, productivity and process efficiencies. The exponential growth of Internet, cloud, mobiles and communication technology and their convergence is adding to a cross deployment of technologies and rapid innovation.
In fact, SBI as the leading bank in India has been deploying cutting-edge technologies and have collaborated with many large global and Indian IT players to induct and provide best-in-class technology.

• Advancements in cloud, mobile platforms and new application development disciplines are lowering technological costs and rollout times. Application programming interface (API) technologies are allowing companies to open up their data and platforms in a secured manner for partner ecosystem to develop applications and create value rapidly. Disruptive technologies such as Cognitive Technology, Artificial Intelligence, Big Data, Blockchain Technology, Robotic Process Automation, and Cybersecurity are expected to vastly facilitate banking through new types of banking models and non-traditional alliances leveraging Fintech capabilities.

• To meet these and various other challenges, implementation of a full-fledged CRM application, innovative solutions for process improvement, enhancing IT and business agility, enhancement of customer experience, etc remain the key focus areas for SBI. Adoption of agile approach for software development and cloud computing for faster and efficient delivery of new services will be the mantra. This will help in reducing "time-to-market" new products.

Asking about implementation of newer technologies you are evaluating for your company in 2017?

• Mahapatra reveals on how new technologies are evolving in all the areas. In the retail space payment systems, wallets, wearables banking, social media banking are making an impact. Disruptive technologies are already evident from non-banks and Fintechs in e-commerce P2P lending and crowdfunding, and banks are transforming themselves.

• Virtual and intelligent networks with multi-protocol level switching, server virtualization, application portfolio management, enterprise architecture are redefining productivity of IT stacks and enabling banks to sweat their IT assets. Big data, analytics and technologies related to AI and robotics are likely to be refined further and these technologies are likely to be the game-changers.

• Multiple and innovative use of existing or newer technologies like block chains, DWP, nonstop machines, payments and settlement switches are likely to harbinger new horizon in banking. The banking space will also be defined by quick adoption of security and risk management technologies. DlP, MDM, Firewall intelligence have to be balanced with UX and the banks which could quickly optimize this are likely to be the winners.

Asking about using disruptive technologies like robot-advisory technology at SBI?

• A number of new startups and Fintech companies are bringing new services to the market. We should focus on a collaborative approach to combine their agility and new thinking with scale. This is essential to ensure a smooth transition to a whole new world. Banks like us have customers that are used to do banking in a particular way. Internally, banks are concentrating on innovation. The launch of digital wallets is one such example. A large part of customer interaction can evolve with the use of robo-advisory or virtual personal assistants.
Today, Indian banks, especially the tech-savvy ones like SBI, have and are adopting globally benchmarked technology in the areas of server virtualization, cloud adoption, network digitalization, big data and analytics and virtual server ecosystem.

• You may recall that IT in banks in India started with backoffice computerization in the eighties and phased rollout of technologies like networked ATMs, Internet Banking and adoption of Core Banking Solutions (CBS) in the early 2000s and thereafter.

• Banks would transition charting a similar path towards digital. Customers would get a taste of new things to come regularly. They would be guided into the whole new world of virtual support.

Commitment towards digital transformation in 2017

• Digitization is about enabling fast and hassle-free banking for customers. Our Bank has been proactively involved in nurturing digital environment. One of the key developments is the enhanced use of "Big Data" to build better efficiencies and service levels into our processes.

• SBI has always been at the forefront in embracing technology. We are amongst the first banks in India to leverage Big Data to unlock a treasure trove of information to understand our customers' individual needs.

• During the last two-three years, use of technology has become integral to banking operations and technology is used for data analysis, understanding of credit needs of customers and customer interaction. Staying attuned to the needs of the Gen Y customers with their need for innovative technology, our endeavour is to become the preferred banker to digital India.

• However, eliminating data breaches and addressing security concerns to build trust is one of the biggest challenges banks and other Fintech companies are facing. Moving towards the initiative of achieving "Cashless Villages", we have been imparting financial literacy amongst rural and semi-urban masses, with special emphasis on women. With the Digital India initiative by the Government of India, and collective efforts of the government, banks and technology companies, India is transforming into a digitally-empowered society.

Lastly, asking on SBI's working towards public awareness on "Cash ki Aadat Badlo" campaign. how is the digital push progressing on the ground?

• Mahapatra spoke on the "state-of-the-art" in payment technology and transfer / remittances can be defined both in terms of innovation in existing and legacy technologies as well as disruptive and new generation technologies. Traditional transfer methods like RTGS/ NEFT internet banking are being made modern through deployment of robust web and application layer technologies, gateways and switches to improve UX and large-scale induction of mobility and app based delivery which are differentiating the processes. Mobile banking, especially the non-smartphone application of SBI, is creating ripples in the market. The e-commerce, wallet, POS technology, contactless, RF-enabled and "card not present" technologies are other areas where SBI is investing aggressively and many of the banks are following the lead.

• SBI's loan life Cycle Management System, a proprietary end-to-end in house system using open-source and high scalable architecture is one system which is redefining this area. Right from analysts assisted inline customer acquisition to loan Origination System, Appraisal system, Loan Management System, Early Warning Signals-based IoT/ Big Data, these kinds of systems are showcasing the power of technology in banking.
"