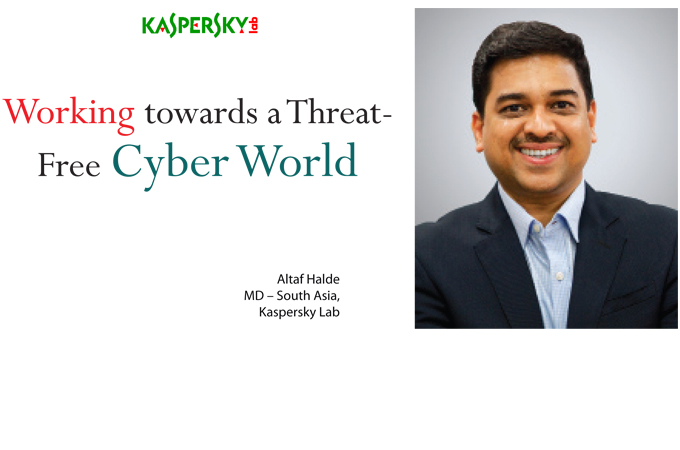 The Game Plan
Business is the activity of creating value. Kaspersky focusses on value, features built into its products and services. Kaspersky believes in creating superior customer value which is the primary focus of everyone working in the organization. The company competes on value and not price and has a value-based competitive strategy that does not compete on price alone. For B2B, it is working closely with its partners, offering a wide range of benefits – training and enablement, lead generation support, marketing support and rewards to ensure mutual growth and giving them a competitive edge. Kaspersky has ensured its partners have access to resources needed to develop expertise, grow business, increase customer's satisfaction, and maximize profitability. For B2C, it also believes in establishing connect with the last-mile reseller to motivate them to increase their business performance and achieve better growth.
Emergence of the Digi-Era
Digital India presents a tremendous opportunity for growth, sustainability and social improvement. The concept involves so many different technologies communicating with each other in so many ways, that the only way to predict and eliminate all possible security issues is from planning through to the actual implementation of digital technologies. Enabling embedded technologies and leveraging the Internet of Things in every district and village infrastructure brings risk that must be considered and monitored to maintain safety for citizens. With Digital India initiative, a lot of data will be collected by different bodies and this needs to be protected.
Kaspersky Lab deals in critical infrastructure where data gets protected and intends to provide complete security solution which will deal with all kinds of cyber threats to government bodies, industries and organizations. Kaspersky wants to work with government planners and builders to raise awareness about cyber threats and share information on how to mitigate those threats before they can impact the public. Also, Kaspersky has alliances with specific partners who have a focus on the government vertical. This coupled with the company's expertise in the IT security landscape, makes the preferred choice for many government departments.


The Differentiator
Today, Kaspersky Lab is one of the world's largest privately-held vendors of endpoint protection, operating in more than 200 countries and territories worldwide. Almost 3,300 highly-qualified specialists work at Kaspersky Lab all over the globe, with more than a third of them R&D specialists. In 2008, Kaspersky Lab established a special R&D department, called as the "Global Research & Analysis Team" (GReAT) which leads the company's anti-malware research and innovation. The team's security analysts are based across the world, each contributing a unique set of skills and expertise to the research and design of solutions to combat increasingly complex malware code. Today, GReAT comprises 42 experts working in Europe, Russia, the Americas, Asia and the Middle East. The team is well-known for the discovery and dissection of the world's most sophisticated threats, including cyber-espionage and cyber sabotage threats such as Flame and miniFlame, Gauss, RedOctober, NetTraveler, Icefog, Careto/The Mask, Darkhotel, Regin, Cloud Atlas, Epic Turla, Equation and Duqu 2.0, among others.