Syngenta in India
Syngenta is in the business of developing better seeds and crop protection products that help farmers grow more food while sustainably utilizing natural resources. Syngenta's operations are spread across India touching the lives of millions of growers and our product portfolio comprises of insecticides, herbicides and fungicides and hybrid seeds covering all major crops ranging from cotton, wheat, rice, corn, fruits and vegetables.
Syngenta is in a strong and unique position to address the increasing complexity of the challenges farmers face. With our unique approach of "thinking like a grower", we believe in giving the farmers an integrated solution to all his problems whether it is soil, inputs, weeds or technologies. With this approach we also believe that we will be able to contribute in a small way towards food security – one of the key developmental goals of the country. Through our integrated offers and continuous innovation, we increase per acre yield, help accelerate technology adoption while enabling growers to deal with an increasingly demanding value chain in a profitable manner. We are focusing not only on the large-scale farmers, but also on 86% smallholders who cultivate 44% of the farmland and whose contribution to farm output exceeds 50 percent. Our integrated solutions for crops offer:
• Seeds that improve yields with early emergence, vigorous growth & quality input.
• Crop protection products that protect yields by controlling insects, weeds and diseases.
• Seed care technology that protects vulnerable seeds and seedlings from pests and diseases.

Syngenta has been contributing to agricultural productivity in India and the well-being of growers and other stakeholders involved in the sector. Driving our steady growth in India are 1700 employees dedicated and committed to the Indian farmer and agriculture.
The safe and responsible use of our products is fundamental to our ambition of helping farmers to grow more food using fewer resources. In 2015 we trained nearly 900,000 growers through stewardship programs on how to use our products safely and effectively to maximize benefits while reducing the risk of harm to themselves or the environment.
The Good Growth Plan
Humanity is facing its toughest challenge. Every day, our planet wakes with 200,000 more mouths to feed. Every night, more than 870 million people go to bed hungry. The need to produce more food is already acute, and the world's land, water and energy resources are under unprecedented strain.
The Good Growth Plan is Syngenta's commitment to make a measurable contribution by 2020. We are setting ourselves six specific targets related to improving resource efficiency, rejuvenating ecosystems and revitalizing rural communities.
The Good Growth Plan in India
The Good Growth Plan is particularly relevant to India as agriculture is the mainstay of the region's economy and provides employment to more than 50 per cent of its population. With India estimated to add half a billion people by 2050, farmers will have to grow crops more efficiently, conserve existing land and improve biodiversity. At the same time, the vast multitude of smallholder farmers will require access to technology, knowledge, finance and markets in order to raise productivity sustainably.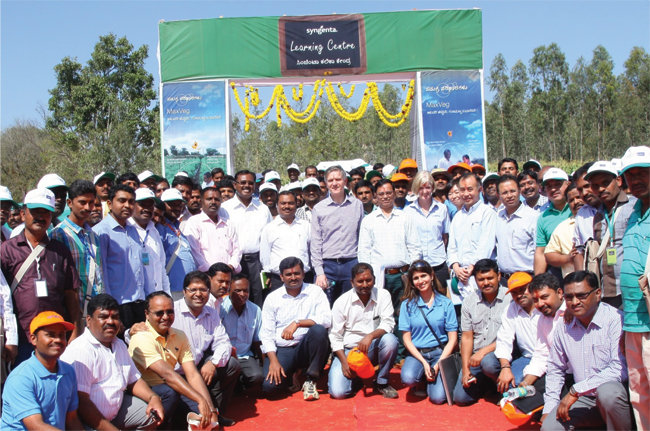 In 2015, we continued tracking the performance of our network of benchmark and reference farms, and worked with our reference farmers to help them grow more efficiently. At the same time, we have created soil management and biodiversity programs to improve agricultural ecosystems. We also extended our reach to smallholders, bringing our customers not only our products, but also access to knowledge, technologies, safe-use training and markets.