The Game Plan
Zscaler is a high-growth technology company which is focussed on bringing cloud computing to internet security. It protects more than 15 million users at more than 5,000 of the world's leading enterprises and government organizations worldwide against cyber-attacks and data breaches, while staying fully compliant with corporate and regulatory policies. As an integrated cloud security platform, Zscaler delivers carrier-grade internet security, advanced persistent threat (APT) protection, data loss prevention, SSL decryption, traffic shaping, policy management and threat intelligence – all without the need for on-premise hardware, appliances or software.
Being a cloud technology company, it has built a cloud infrastructure across 100 data centers around the world to ensure that its customer's users are secured whenever they interact with internet. The brand operates its technology on every single device, wherever the user is in the world, across the network of 100 data centers in almost all the major markets as well as smaller locations around the globe.
Zscaler is built for web access and simplifies the customer's IT cost; so rather than having multiple appliances and multiple different brands and technologies, Zscaler delivers it over the cloud which provides elasticity and simplification.
The brand helps improve security faster while providing a complete platform of security capabilities which include a DLP, managing bandwidth, next-generation firewall in the cloud, etc which can be accessed like service.
From the user's perspective, Global 1000 brands such as GE, Nestlé, ExxonMobil, Schneider Electric, and government and military organizations like the United States Marines, NATO and the National Health Services of the UK rely on Zscaler to provide a safe and productive internet experience for all of their users, from any device and from any location around the world.
Go-To-Market Strategy
The brand is currently focussed on large enterprises from pharmaceuticals, manufacturing, BSFI, SME, etc verticals that have got multiple gateways. It has seen a lot of growth, particularly in India in the VAR market. According to Zscaler, VARs understand the concept of mobility and a digital environment very well and the challenges that businesses face in moving from where they are today and transforming into a cloud company. These partners deal with some of the largest multinationals in the world and have strong relationship with their service providers to provide WAN MPLS network across the globe.
Zscaler selects world-class partners to help protect enterprises from Internet cyber threats. The brand has designed various key partner programmes for its channel partners to compete in the industry and expand its revenue opportunities.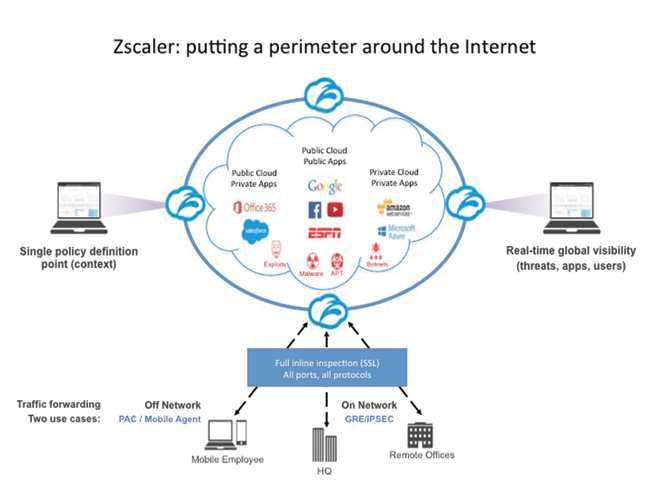 The company has also been recognized for the best Cloud Computing Security Solution at the SC Awards 2016. Also, 2015 Gartner research has positioned it in the Leaders Quadrant for Secure Web Gateways and 2015 Forrester research has recognized Zscaler as a Leader for SaaS Web Content Security.