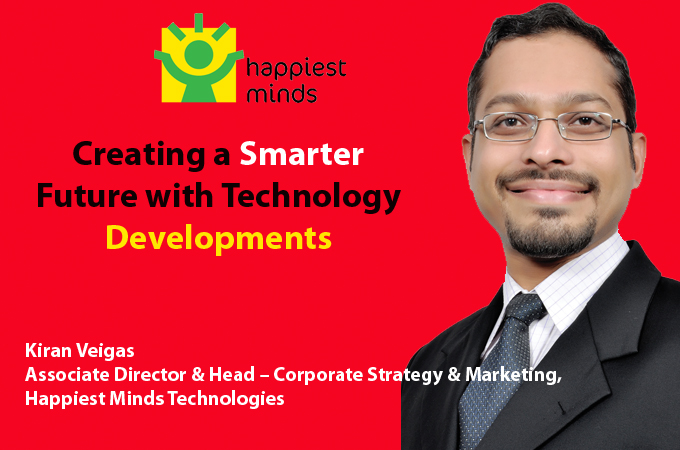 The Game Plan
Innovation and technology are two important factors that drive marketing. The backbone of any marketing strategy is to rely on the core differentiations of what your product offers. Innovation is the only way companies like Happiest Minds Technologies differentiate from some of the legacy players. This key differentiator helps in reaching out to the target audience. The marketing function has a two-pronged objective –
– Building and nurturing a healthy pipeline for the sales organization
– Creating and enhancing company's brand awareness.
The company's focus is on leveraging an integrated set of disruptive technologies and hence delivering non-linear growth benefits to its customers. It has a range of offerings from SMAC+ stack, IoT, security, etc. Happiest Minds Technologies handles the entire digital transformation of a business and this positions it as a single point of contact for clients. The brand has been able to add 100+ clients in less than three years because of the innate focus on digitally transforming a business.
2016 is all about using incremental technology developments to create a smarter future. The key mega technology trends that are shaping 2016 are cognitive computing or machine learning that are enabling computers to learn on their own without human intervention, Artificial Intelligence (AI), Robotics, Virtual Reality (VR) and Augmented Reality (AR). These technologies are enabling richer and immersive digital experiences. Drones, wearables and connected devices are proving that Internet of Things (IoT) is here to stay. Cybersecurity issues in the mobile and connected world are also going to be critically important and Data Driven Design is fundamentally metamorphosing the retail and e-commerce experience.
Emergence of the Digi-Era
India is the third-biggest start-up market in the world after the US and Britain. The government's initiatives to "Make in India" have found resonance with many NRIs flocking to India and building in India. According to R. Chandrashekhar, President, Nasscom, India is one amongst the first five largest start-up communities in the world with the number of start-ups crossing 4,200 – a growth of 40 per cent – by the end of 2015. The growth prospects and potential of the digital transformation market offers unprecedented opportunities for focussed players in the sector.


Digital is the way forward for any company, be it a legacy player or start-up. The global digital business is expected to cross in excess of $300 billion by 2020, as per industry estimates. Happiest Minds is uniquely positioned to showcase the integrated set of disruptive technologies to enable a smooth and successful digital transformation journey for its customers.
The Differentiator
The goal of Happiest Minds is to achieve 25 per cent of its revenues through IP solutions. In the fourth quarter of the last fiscal, 10 per cent of the company's sales was from IP-led offerings. The brand has developed various platforms to connect Internet of Things in the areas of infrastructure management, security and retail. The team of 60+ personnel is engaged in R&D and focussed on Disruptive Technology to develop these solutions.