The Game Plan
ESDS is a managed cloud services provider, offering managed Datacenter Services and is committed towards making IT compute accessible and affordable to all businesses. It is focussed on delivering its customers cloud-based solutions that promise to transform the commodity-based computing into utility model that is highly available, easily scalable and extremely reliable solutions.
Emergence of the Digi-Era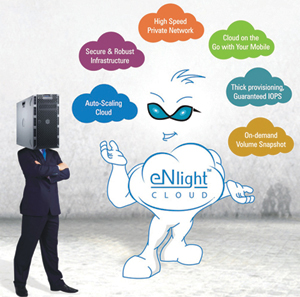 Organizations can accelerate their growth potential by adopting digital transformation. Today, digital innovation is disrupting the way businesses operate in the globalized economy. Enabling business for digital transformation not only provides organizations a competitive edge, but it also creates new business avenues, taps growth opportunities and drastically transforms the way organizations engage with customers.
India is on the edge of digital revolution, thanks to the government's ambitious Digital India project and key sectors digitizing their service offerings. While the government is gradually in the process of streamlining all citizen services over the Internet, high-growth sectors like banking & finance, retail, education, etc are also offering digital services to serve consumers effectively and stay competitive. ESDS expects this digital economy to spur demand for available, scalable, reliable and affordable compute solutions and cloud-based technology is best poised to achieve this.
ESDS expects cloud computing to make rapid strides in adoption by CIOs to drive business agility, productivity and profitability. CIOs of SMEs and enterprises are under immense pressure to align business for digital transformation with the need arising to have cloud at the heart of their business strategy. With a cloud-first approach, CIOs can truly deliver an agile infrastructure that is nimble enough to put business on the high-growth path.
The Differentiator
ESDS is committed to constantly innovating and setting a new industry benchmark. The USPTO patent winning eNlight Cloud breakthrough based on vertical auto-scaling technology helps customers to borrow resources automatically from the Cloud in real time.
Once the usage is over, the resources are automatically pulled back by the Cloud in minutes. This is a critical innovation as the present cloud models adopted by large technology players are based on horizontal scaling and predominantly developed for large e-commerce websites having heavy load on their websites.