The Game Plan
Deskera helps SMEs optimize their processes so that they are able to survive in this world of cut-throat competition, especially after the advent of the Digital World. Its affordable suite of Cloud-based enterprise applications, especially ERP, brings people and enterprises together and enhances connectivity. For example, a Pune-based client had a number of branches in other locations, including Delhi. Continuous travel and coordination with his other branches was proving troublesome and was taking a toll on his health and family life. Deskera's product provided his enterprise the wherewithal to conduct business and integrate it with his other branches, without having to physically take stock of his business in Amravati, Delhi and other centres.
Similarly, its Cloud-based Customer Relationship Management (CRM) system automates a pretty crucial aspect of the entrepreneurial world. It helps customers grow their business, retain the existing ones and cultivate new business clients and partners. Its products encompassing Cloud, Big Data, Analytics and Automation are specifically tailored to help the SMEs realize their dreams.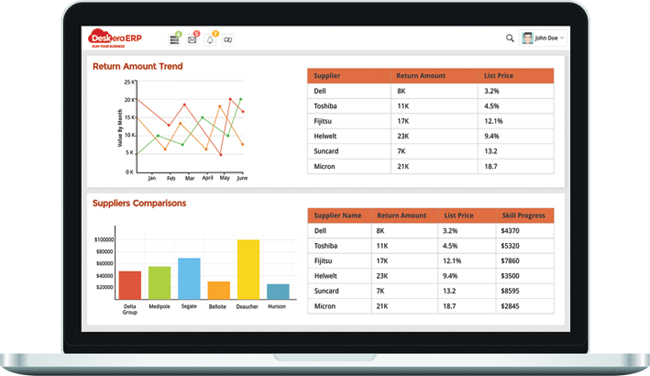 Deskera also believes that the world is now a global village. Globalization and technology have played a crucial role in this transition. It also means that the world is moving towards ensuring a level-playing field for all enterprises. Trade barriers are also coming down. Against that background, Deskera sees this as a positive development. It brings out the best from enterprises in the form of enhanced products and services without compromising on quality. The company has a couple of big-ticket projects in the pipeline which it is negotiating.
Emergence of the Digi-Era
Deskera wants to be a catalyst in the digital transformation of the country, to bring them at par with the rest of the developed world. With high-speed Internet penetrating large parts of the country, it is very much sure that digitization will happen soon. For India to Shine, there is a need to bridge the existing logistical, infrastructural and technological gaps. Therefore, Deskera, in particular, is targeting SMEs, both in the urban and rural spaces.
As a leading technology innovator, Deskera wants to help India realize its mission of a digital country by helping SMEs automate and upgrade with best-in-class software. The process has picked up momentum after the new government took over. The Government of India's vision is to transform the country into a digitally-empowered society and a knowledge economy.
The Differentiator
Deskera's products such as Project Management and Human Resource Management software can be a boon for behemoths which deal with lakhs of employees and hundreds of projects. It has also developed state-of-the-art software for automating manufacturing processes. Its software can take care of all business processes such as invoicing, payroll generation, inventory, customer management and business expansion. Tax computation which used to be a pain some time back has now been simplified with Deskera's software that takes care of all the accounting needs.
In today's age of technology, Deskera feels that its products are a necessity and not a luxury. There is a potential market for a good product. What remains to be done is to connect the two of them and make people aware. It has a dedicated team for creating awareness. Its products make business simple and user-friendly, while remaining within the reach of small enterprises. These products are affordable and easy to implement. It provides all the backend support to its customers for an efficient and smooth functioning.