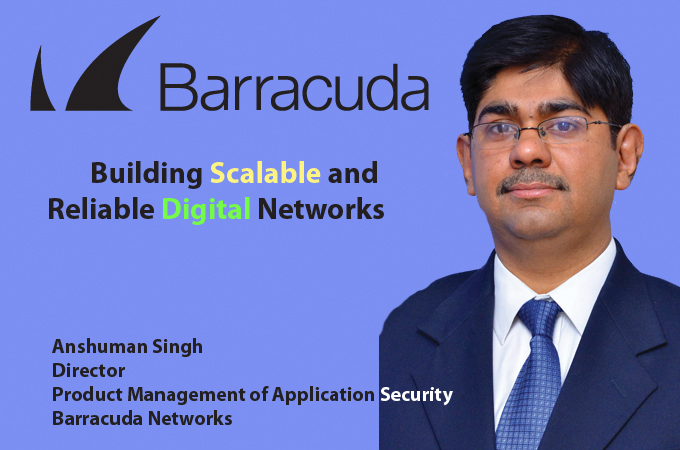 The Game Plan
Barracuda Network's strategy is to stay unique and offer benefits like none other, which include continuous threat protection, secure storage and cloud solutions and centralized management. What differentiates Barracuda is that its customers find it very attractive when it comes to its licensing policy. Every customer who uses Barracuda always ends up buying more than one technology as the TCO and RoI which it offers are far higher than many of the competition in the market.
Barracuda focusses on customer's needs and creates innovative products that solve important needs of its customers. It is a single source vendor for security, storage, cloud, application delivery solutions and supports resources with unmatched flexibility in terms of its purpose-built hardware, efficient virtual appliances and convenient cloud services that let organizations deploy IT their way.
Emergence of the Digi-Era
Barracuda Networks offers solutions for two important problems – security and data storage. Both these categories have immense scope in India, especially due to the nature of solutions and the pricing options. The digitization efforts will lead to creation of huge amounts of data. This data will have to be stored and backed up in a way which will allow easy retrieval. Barracuda Networks' hybrid solution of on-premises backups augmented with cloud-based storage is a great solution for this problem.

As organizations, both private and public, move towards digitization, they will not only build their digital networks but will also need to build in scalability, reliability and security into their IT platforms. This again is a great opportunity for Barracuda Networks as its suite of security products offers a complete range of security that would be required for the organizations looking to embrace this change.
Digital technology is impacting all sectors, be it government, finance, manufacturing, healthcare or anything else. Many State Governments are already doing phenomenal work in bringing their services to the public using the digital platform. Beyond the basic infrastructure need of electricity, stable and secure and reliable connectivity would be required to service the far-flung corners of the country, but within limited budget for technology and manpower. Barracuda Networks understands these constraints and has built solutions that are easy to use and manage.
The Differentiator
Barracuda is committed to R&D to drive growth supported by creativity and innovation. In fact, Barracuda leads in its investment in R&D (research and development). It has announced a number of firsts, including being the first major security appliance vendor to tackle the image spam problem with an integrated optical character recognition engine, the first to announce PDF spam protection, and the first to implement Predictive Sender Profiling techniques such as multi-level intent analysis to combat the latest forms of spam.



Barracuda has been quite transparent in both its use and support of the open-source community. In fact, open-source technologies have been heralded in security applications because of the scrutiny and ongoing contributions from security researchers worldwide. Barracuda utilizes open-source technologies for commodity functions in its appliances, including the Linux operating system, SpamAssassin and ClamAV. Use of open source enables its R&D teams to focus on technologies that add customer value beyond the commodity functions.



Barracuda has remained the market leader not because of the money it spends on advertising. In fact, advertising works for Barracuda because the products actually work.