The Game Plan
NVIDIA believes that nothing builds a brand more strongly than happy customers. Understanding the customer's profiles and needs and ensuring the brand's value proposition to meet the needs are the fundamentals of marketing. Not only this, the company focusses on developing the best technology possibly for customers across its four key verticals of Design, Gaming, High Performance Computing and Automotive and conveying this value proposition in an increasingly digital, social and community-based manner.
In today's fast-moving digital world, new opportunities have opened up for marketers, especially around engaging prospects and customers in content-based communities, expanding outreach via social media virality and focussed portals, bloggers and influencers. All of the above are part of NVIDIA's marketing strategy, built on top of the strong product and platform offerings it provides.

In addition, the company's go-to-market is through NVIDIA Partner Network (NPN) partners and key strategic hardware OEMs through joint and co-marketing campaigns.
Emergence of the Digi-Era
With the "Digital India" initiative, the Government seeks to lay emphasis on e-governance by ensuring that the citizens can electronically access most government services in real time on both online and mobile platforms. Another key focus area of the initiative is to provide high- speed internet services to its citizens across the peninsula.
The estimated budget of Digital India is going to be about $19 billion between 2014 and 2018. This obviously gives immense hope that there is a greater possibility of adoption of technology going up. Increased use of products and easy access to internet will result in greater adoption of technology by small and medium enterprises. As part of this, big data management and analysis will be the key to ensuring a truly Digital India.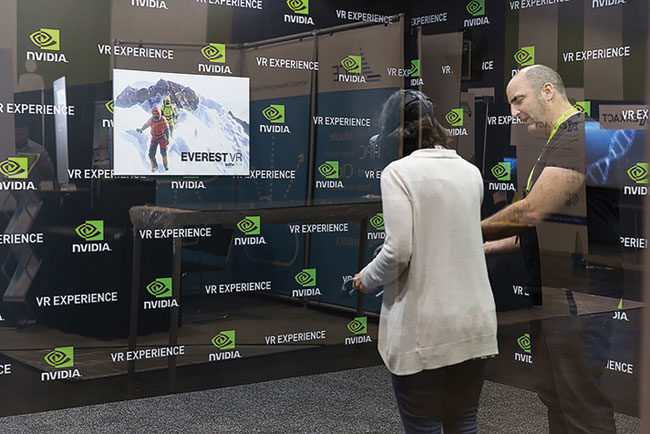 NVIDIA finds government's initiatives such as the National Supercomputing Mission and Smart City projects to be of great interest as NVIDIA can add value in terms of technology, knowledge and experience in similar engagements globally.
The Differentiator
As a company, NVIDIA is extremely focussed on R&D – innovation is the lifeblood of the company. Last year, the company invested around 30% of $5 billion worldwide revenues in R&D. It is also committed to bridging the gap between academic output and industry requirements. It has been NVIDIA's constant endeavour in training larger numbers of engineers with parallel programming skill sets. In fact, through NVIDIA Academic Grant Programme, more than 200 academic institutes are now offering CUDA teaching and research work on NVIDIA's GPUs.