The Game Plan
Marketing plays a pivotal role in every organization's success. It manages the vital responsibility of shaping up the business strategy of an organization and ensuring it gets implemented across various departments. For a software products company, marketing drives the overall product positioning by taking care of every aspect of product lifecycle. It acquires the additional responsibility of educating the market on the benefits of adopting technology through various initiatives directed towards knowledge sharing and thought leadership. Some of these initiatives include webinars, events and conferences, social media marketing, content marketing etc.
The central marketing team at Newgen is primarily responsible for creating market strategies for 20+ verticals that it caters to as well as different geographies that it is present in.
Newgen's go-to-market strategy strictly focuses on extending the benefits of indigenously developed world-class technology solutions to businesses in the most customized manner possible. What it means is that it tries and understands the pain areas of an industry vertical and then tailors its offerings to meet these needs. Newgen's positioning is also based around these specific business needs of organizations and how it helps overcome these challenges by leveraging its IT expertise.
Newgen's products enable digital transformation of enterprises by integrating people, processes, systems and things of an enterprise.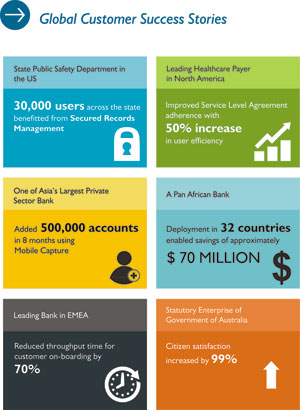 Emergence of the Digi-Era
Digitization entails numerous opportunities for every organization. With digitization at the forefront, the country will inch closer towards becoming a 'Smart Nation'. Technology will play a critical role as the enabler of this country-wide Digital Transformation.
Newgen's core products have helped organizations from various sectors drive the digitization projects within the enterprise. It believes its solutions are well aligned with the overall objectives of the Digital India initiative. Document Management System, for instance will become a key business priority for most organizations as they seek new ways of managing the barrage of information flowing into the enterprise systems every minute.
Also, in an effort to create operational efficiency and process standardization, end-to-end automation solutions will find acceptance over silos of business applications which run independently. All this augurs well for its integrated suite of products in the ECM, BPM, Case Management and CCM space together driving end-to-end digitization for organizations across industries.
The economic landscape has already been altered, powered by the Digital forces of Social, Mobile, Analytics and Cloud. Businesses have changed. Globalization has led to infinite businesses, businesses that leverage the power of digital tools to defy the geographical boundaries. Internet of Things has given rise to a new interconnected economic world where customer is a new King. Customer experience is no more a competitive edge, but a fundamental expectation.
Going Digital is the only imperative for enterprises to move forward. Organizations will have to rethink their business models to imbibe responsiveness to every change so as to create an agile and efficient workplace. Harnessing the power of right content in the right customer context will drive their customers' loyalty. They will have to connect systems, processes, people and things of their business in innovative ways to nurture the organizations of tomorrow.
The Differentiator
Innovation is at the center of Newgen's corporate strategy. It practices and promotes creativity throughout its endeavors. In fact, 12-15% share of its annual revenue is invested in research & development of cutting-edge technology to drive Digital Transformation across the globe.