Focuses on Customer Delight through Innovations
As the technology and business landscape across India continues to change across industries such as Manufacturing, BFSI, healthcare, retail, e-commerce, education, clubbed with the constant need to adopt new and disruptive technologies businesses are rapidly embracing technologies such as Cloud, Big Data and Mobility. IoT (Internet of Things) and Smart Cities powered by connected devices are leading to surge of large data from connected devices, storage with scalability – necessitating a huge demand for datacenter space, including Compute, Storage along with Disaster Recovery.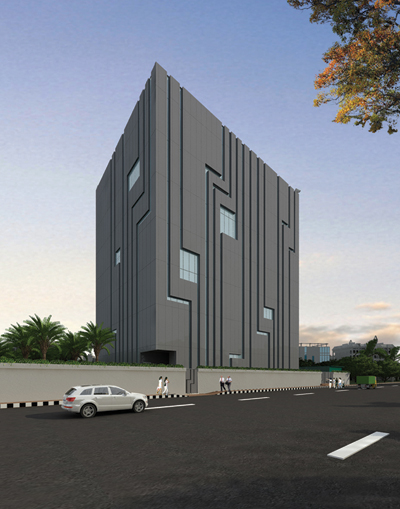 CtrlS – Asia's largest Tier-4 Datacenter and Managed Services Provider is the trusted advisor to over 3,500 Indian and world's leading organizations, including ten of the Fortune 100 companies globally and twenty-three of the ET 100 companies in India. The company serves major banks, insurance, telecom, e-commerce, media, healthcare, retail, FMCG, IT/ITeS, manufacturing companies in India and across the globe. The company's growth over the last eight years is attributed to two things – absolute focus on customer delight and continuous innovation to eliminate customers Pain points.
Customer Focused Approach
Mr. Sridhar Pinnapureddy, Founder and CEO, CtrlS Datacenters Ltd says, "Our Mantra is Customer Delight. This has a consistent and constant factor and one of our pillars of business growth. Our teams are aligned to focus on needs of our customers, pay attention to every detail and deliver the promise on time, everytime". He further adds, "We have evolved a new process in addition to ITIL and COBIT to ensure the service delivery process in the post-sales phase is aligned to the needs of our customers – with the single goal of ensuring customer delight – this key to our brand promise. Customer delight ensure loyalty, loyalty ensure brand affinity and brand advocacy"
Customers concur with Sridhar's philosophy and the endorsements by customers stand testimony to the same. As a case in point, Swapnil Shirwadkar – Head -Datacenter Operations & IT Projects, India First Life Insurance says, "CtrlS has provided us a unique DR solution on the cloud. The solution not only enabled our ability to withstand disasters but also help save our costs by 60% and above. It has been a pleasure working with the entire CtrlS team and building a robust solution for India First Life Insurance."
Innovation – A way of life at CtrlS
CtrlS has had 200 innovations ever since the inception of the company. The company launch India's first and Asia's largest Tier-4 data centers while the country still wasn't aware of what a Tier4 meant. It pioneered the Disaster Recovery as a Service (DRaaS) – which has now a industry benchmark. CtrlS also innovated the World's 1st Tier-4 Public Cloud – christened as 'Cloud4C'. This is a unique cloud platform which provides a four-way (4Copy) disaster recovery to ensure near zero downtime of data and is aimed at enabling mission critical applications including applications such as ERP among others. Content Delivery Network (CDN) is the latest addition from its Innovation Lab.
Sridhar says, "We have built the World's first Tier4 Public Cloud – Cloud4C built for mission critical applications requiring four copy infrastructure, some with compliances mandating the same. This is a 'Made in India Cloud' with a built-in DR and is well positioned to revolutionize the way businesses (needing data redundancy and availability) will adopt the new technology providing them high availability, business continuity with complete and seamless scalability."
Any organization that requires data warehousing and secure cloud software as part of the services fits the bill. This includes hospitals, banks including business running ERP applications too!
Agility of solution deployment alongside innovation has been a winning mantra at CtrlS. Bharti Lele, Head – Innovation Labs, L&T Infotech who currently uses the services of CtrlS subscribes to the same. She says, "We had selected CtrlS as our technology services, they not only provided the right solution but ensured we were up and running in no time".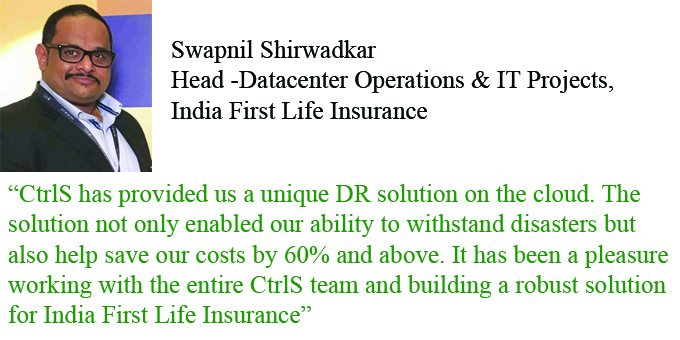 Green and Eco-Friendly Innovations
High energy-efficient practices and innovative cooling solutions at CtrlS have led to optimization and lower consumption of power and energy resources and hence making it a eco-friendly datacenter. Its energy efficiency ensures 30% lower-power costs for all customers, which is its value addition. "We achieve energy efficiency through datacenter best practices (as a part of innovations) such as elimination of cooling inefficiencies, regular upgrades of all cooling systems, rightsizing the UPS and power distribution equipment, regular calibration and monitoring of cold aisle and related temperatures, matching server capacity loads in real time and process automation for temperature/lighting control," says, Sridhar Pinnapureddy. The company has won many awards from CII in recognition of its contribution to energy efficiency.
Quake and Pollution Free Datacenter
With its continuous quest for innovation the company is soon launching its new data center in Noida which is built to withstand earthquakes in Seismic Zone 5 (richter magnitude scale of 7 to 9). The magnitude number refers to quantify the energy released by an earthquake. "Our Datacenter is an earthquake-resistant structure designed with vibration control mechanism and collapse prevention structure to withstand the intensity and seismic movements with proven earthquake engineering," says Sridhar Pinnapureddy. "The DC is designed to address two key aspects – withstand earthquakes, contain air-pollution. "Both quakes and air-pollution have the ability to destroy critical information hosted in any datacenter, however, with our quake resistant and pollution free datacenter we are able to address the very critical needs of our customers," concludes Sridhar..
Another highlight of the DC is uninterrupted power (with dual power sources, the only DC to do so in India), highest uptime guarantee (Industry best uptime of 99.995%) nine zone security and carrier neutrality, among others. Like Smart Buildings, this DC is positioned as a Smart Tier-4 Datacenter whose uniqueness lies in the reinforced walls built to contain heat. The smart components of the Tier-4 Datacenter include an intelligent access control security system to detect trespasses and an automated pollution control system that ensures 100% pollution free air. Needless to say purified air keeps the computer corrosion free and eliminates health related issues for the workforce.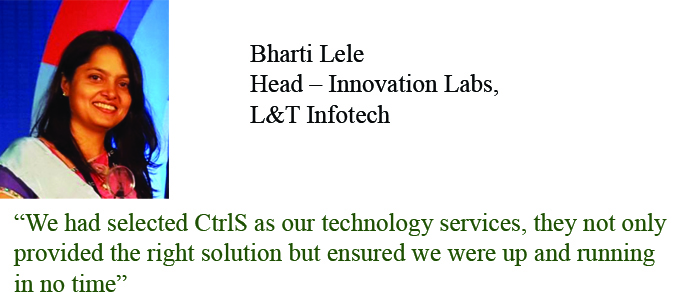 CtrlS continues to invest in its Research & Development (R&D) to roll out new products and services to address the customer's pain points and help them align IT with the business objectives and goals. Customer being its number-one priority, its Total Ownership philosophy is aimed at meeting the customer's challenges through multi touch-point engagement to help address their applications and related infrastructure hosted with the company and ensure that they enjoy the highest uptime through tightly knitted service delivery operations structure and the Service Level Agreements (SLAs).
CtrlS has consolidated its position as a forerunner in the cloud and data center space with its Tier-4 datacenter facilities in Hyderabad, Mumbai, Noida and the fort coming one in Bangalore. As part of expansion plans, CtrlS plans to expand its footprint in 17 countries across the globe by March 2017.
And, as Sridhar sums up, "Customer's Delight is our Mantra, and they will always be the Center of our focus", CtrlS does understand that it is its customers that matter the most to it and looking into their constantly increasing demands would what makes it a strong customer-focussed brand – be it in India or across the World.