The Game Plan
A10 Networks looks at marketing strategies to be depending on quantifiable and data-based analytics to drive decisions relating to customer needs and behaviour, new routes to market, new opportunities and strategies for customer engagement. It is less of an art and more of science as it involves harnessing data-driven insights for decision making. In an era of digital disruption that encompasses all aspects of our daily lives, be it at work or at play, three things are increasingly becoming a critical part of high-tech B2B marketing – content, new media and analytics. Creating, curating and distributing content online to attract the target customer demographic is essential to today's marketing strategy because the buyer's journey has evolved. Anyone with a blog and an opinion can garner an online following and could well be an "influencer". Lastly, one cannot forget the importance of analytics – the ability to harness and interpret real-time data to make constant adjustments to digital strategies that allows a marketing organization to be agile and respond to the latest developments in the market.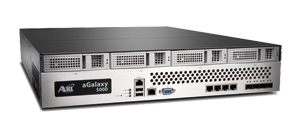 Emergence of the Digi-Era
Digitization means more and more applications being rolled out. The more applications means more users and hence complexities. Different types of network mediums and different types of end devices will be used to access these applications. All this brings in the need for ensuring the applications are available, they perform and they are secure while in motion and at rest, on premise or off premise.

Different users adopt different kind of devices to access enterprise applications or even applications that matter to the daily life. These applications most of the times are not aware of things like, network, bandwidth, type of device the user is using etc. The opportunity is in providing a solution that helps the user validate his identity and privileges, and based on that, ensure he gets access to right information. While he is accessing the application ensure the performance of his application is optimal. Small to large business enterprises are now going digital as a way to ensure their services reach their customers; this opens the door for A10 in almost all possible digitization opportunities with its comprehensive solution that addresses Security and Application Delivery.
The Differentiator
A10's research and development effort is focused on developing new products, on enhancing and improving its existing products and leveraging its ACOS platform. It's engineering team works closely with end-customers and technology partners to identify future needs. A majority of its research and development team is focused on software development, with substantial experience in networking, network management, application delivery, performance optimization, security, software quality engineering and automation. It believes that innovation and timely development of new features and products is essential to meeting the needs of its end-customer and improving its competitive position. A10 supplements its own research and development effort with open source technologies and technologies that it licenses from third parties.