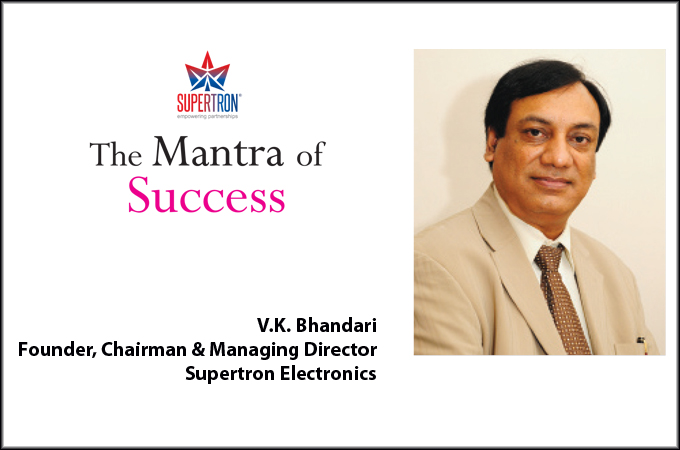 Established in 1993 in Kolkata by V.K. Bhandari, Supertron Electronics is a leading Information Technology and Telecom company in India which has graduated from the regional to a national level. Supertron clocked a turnover of around Rs. 2300 Crore during FY 2015-16. The distribution house has witnessed phenomenal growth of 110 percent over the last five years. The company has a pan India presence with 39 branch offices and warehouses and 18 satellite offices across 29 states and UTs with over 1500 employees and a strong network of 27 service locations. Supertron caters to over 9,000 channel partners spread across the regions. The success of its own brand of products and some of the strategic tie ups with big MNC players has bolstered the growth of Supertron and helped the company to strengthen its position among the leading distribution houses in India.
Distribution Powerhouse
Supertron has four business verticals – IT distribution, LFR, Enterprise and mobile/Telecom. Last year it has forayed into the Telecom sector recently. Supertron offers a wide variety of products and solutions including Desktops, Laptops, PC components, Peripherals, Memory, Storage, Networking and cloud. Along with these core businesses, Supertron has diversified into other businesses like IT Enabled Services. Supertron Infotech is the ITES division of the company offering a wide range of value added services in the field of ITES.
"Since inception, Supertron has been patronized for its highest standards of business ethics and delivering to keep its promises each and every time with an aim to provide cost-effective products and solutions to the customers in all areas of information technology. Due to dedication and commitment, we have got good support from the Principals and Suppliers and tied up with all big players around the world.
A unique and innovative marketing initiative has been our upcountry focus. We have mapped districts for each state and we have targeted to do business and have our presence in each potential district rather than focus on metro cities where demand is saturating. We have opened satellite branches to interact upcountry partners regular basis. Our upcountry focus fits in very well with our overarching mission of bringing the best IT products of the world to an underpenetrated India and raising standards and enhancing national efficiency," says V.K. Bhandari.
Emphasis on smaller cities
To drive distribution business to supply chain management, Supertron has taken steps to increase its footprints more and more on smaller towns and increase the channel breadth rather than relying more on major cities. The company has extended its presence beyond metro cities of B, C and D class cities with a significant and growing presence in the upcountry and remote towns as well.
"As far as Business expansion and growth is concerned, we believe in relationships, maintain ethics, healthy competition with the transparent and collaborative approach. Being a distribution company we always maintain good relation with the channel and vendors and try to fulfil the customer needs. Our 9000 plus nationwide partners have the confidence on Supertron as far as business ethics go. We are a relationship driven company and that signifies our growth in comparing to industry growth. We have well experienced HR team and they are always coordinating with all our team members very efficiently," he says.
Passion, teamwork and sheer determination for growth with fair and ethical business practices have been the key to Supertron's growth. The distribution company has tied up with a wide variety of IT products and brand-enhancing international vendors like Seagate, Dell, Acer, Lenovo, Samsung, LG, TP Link, ZOTAC, Corsair, Saphire, AverMedia, AMD and Transcend among others. Supertron has also signed up with one of the biggest Mobile brand Gionee as their regional distributor for South India & successfully growing the business in this territory.
Key Priorities for FY 2016-17
• Eyeing for 3000 crore revenue
• Emphasis on regional spread
• Focus on strategic business collaboration
• Higher growth in GIONEE mobile business
Aspires to become the Number 1…
Supertron is eyeing for opportunities in smaller towns and wants to be closer to the customer and hence set up 4 upcountry branches; Jabalpur and Puducheri have been opened recently. It has also opened satellite branches in Trivandrum and Rajkot. Along with that the company also forayed into new lines of business such as Cloud Computing. Cloud is the in thing and has huge opportunities for future growth. Supertron has just entered in to this sector and believes in consolidating itself in Cloud Computing.
Supertron's key priorities in the next fiscal are to enhance supply chain efficiencies, reach products across the country at the lowest cost and scale growth in the shortest possible time. "We want to establish our organization as a leader with focused and value added distributor with an end to end solution provider in IT & Telecom distribution in the country," says Bhandari.