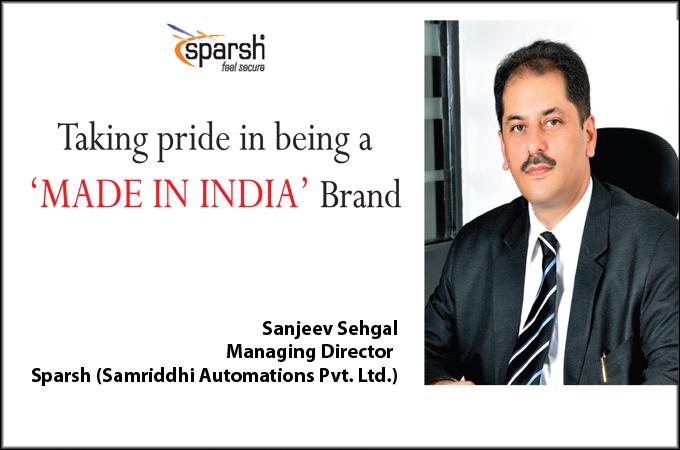 The Game Plan
In this highly competitive global environment getting the product noticed is a tough task for any organisation. Even the organizations which are well established, globally recognized struggle daily to maintain their status quo. Marketing is a very important process in any business since it contributes greatly to the success of the organization. Marketing is a vital component to the prosperity of all organizations. The marketing strategies are directed towards servicing existing clients, obtaining new clients, branding, and public relation. All of these tactics are performed to encourage sales. The goal of marketing is to make the product or service widely known and recognized to the market.


At Sparsh, marketing is focused towards providing end to end surveillance to its partners and customers. Being the first Indian company to manufacture CCTV cameras in India, Sparsh understands customer needs and have always offered advanced, reliable, and truly secure and value for money products which makes it a straight choice over others. It devises innovative marketing campaigns for reaching out to customers and partners through various communication mediums like digital, event and prints.
The current CCTV industry is flooded with high number of unorganized and Chinese players. In this highly competitive and cluttered market, Sparsh has positioned itself as a "Made in India" brand. With government promoting "Made in India" products for consumption in government enterprise and department, Sparsh has greater advantage of being chosen as a priority brand. As a brand, Sparsh stands for Trust, Reliability and Innovativeness. In spite of the major security market in India being unstructured and dominated by Chinese companies, Sparsh has always stood by its values of delivering the right product to consumers which has been a big differentiator over the years in the CCTV market.
Emergence of the Digi-Era
Digitisation is having far-reaching consequences for the way in which products of all kinds can be produced, reproduced, marketed and distributed to large audiences across the world. It allows businesses to move a lot more quickly, by removing a great deal of the friction inherent in the processes of manufacture and distribution of physical products.


Digitalisation will result in an increase in consumption of IT and Communication. Establishment of a robust network (optic fibre cable) will boost enterprise and mobile applications, opening up opportunities for IT product and services companies. The Digital India will lead to universal connectivity, making Apps (applications) available to people and digital literacy. Once connectivity is established, it will drive the usage of apps, giving people access to a variety of services.
The Differentiator
Innovation is key to success for Sparsh and has continuously made the products more technically advanced. Due to the focus on technology, various global leaders in electronic security have partnered with Sparsh to bring these products to market. The company has gathered lots of technical, product and customer requirement knowledge that has resulted in technologically advanced, reliable, truly secure and value for money products. Sparsh has a team of more than 40 R&D engineers who dedicatedly work to bring new products and technologies to make customer secure. It spends more than 5% of the turnover every year on R&D. This in combination with the R&D team and software expertise, what India is known world over, enables the company to design and develop world class products in India.