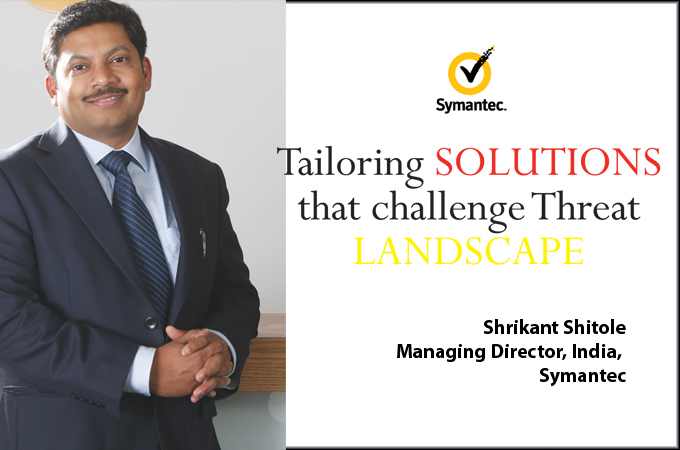 The Game Plan
With majority of Symantec's business in India being partner-led, Symantec sees tremendous value in investing in committed, capable partners to drive deeper relationships with customers and help address information security challenges and complexities in the areas of cloud, data center and mobility. Bringing in a focussed channel strategy, Symantec together with its partners is confident of making businesses in India more secure and protected.
The India Channel strategy – Secure One – ensures Symantec is investing in the right channels at the right time. With 100% focus on security, Symantec's goal in the upcoming year is to provide value to its mutual customers and grow the overall businesses. Its focus also allows it to enhance its strategic engagement with partners – to deliver a deeper more innovative portfolio centred on growth and create best-in-class programmes, tailored to the market and its mutual customer's needs. Symantec's partners recognize the advantage of focussing only on security and the opportunities, while the company aims to capitalize on the market potential together.
Emergence of the Digi-Era
In a world where the perimeter is disappearing, it is not enough to simply defend against exploits and threats. Symantec is moving beyond traditional software to help customers protect against a wider range of threats. The company believes that it is time to go on the offensive, leveraging the next generation of both threat and information protection technologies to fight increasingly sophisticated adversaries. The industry is at an inflection point. With its scale and assets, Symantec has a chance to change the game for cybersecurity, with its Unified Security Strategy. With data being its crown jewel, it sees and analyzes and therefore knows more about the threat landscape than anyone else in the industry. Symantec is aiming to make cybersecurity more intelligent and targeted by applying big data analytics.
The Differentiator
Symantec, being one of the leaders in cybersecurity, is deeply committed to R&D to provide its customers relevant insights and best-in-class solutions to safeguard their business. It invests more than $1.1 billion annually in R&D. Over the last 20 years that Symantec has been in India, it has been committed to the country with its vast R&D presence. One in three Symantec engineers is based in India, solving business critical issues of customers for India as well as globally.
India is a key innovation hub for Symantec and also has key security intelligence installations like Security Response Centre and Security Operations Centre that are the key components of Symantec's Global Intelligence Network and gives it insights both globally and locally. The company has also recently announced plans to beef up the Cybersecurity Services business globally with an investment of more than US$50 million. It has also invested significantly in its cyber services-enabling technology, including big data analytics and distributed computing. Symantec's SOCs analyzes 30 billion logs worldwide each day to provide enterprise-wide protection to help organizations strengthen their defences and respond to new threats as they emerge 24 hours a day, 7 days a week, 365 days a year.