Indian enterprise applications market continues to grow amid the expectations of growth from the government's push on Digital India, Make-in-India and Smart Cities. Mid-segment also drives growth due to cloud-based, pay-per-use solutions.
India's software landscape is largely dominated by a bunch of global software companies such as Microsoft, Oracle, SAP, IBM and SAS, etc. They are ruling the market for years now as most of the big ticket customers from BFSI, retail, pharma, healthcare, FMCG and others use their enterprise-grade solutions for running businesses globally. However, things have changed in the last few years. Their business models have been challenged. Small players and startup companies have popped up globally to take on these traditional giants offering core software solutions to customers.
Even though Microsoft, Oracle and SAP still share most of the software revenues, the rise of new players is pretty significant. Relatively new players like Qlikview, Infor, Epicor and Salesforce, among others began to solve the key challenges in the traditional enterprise applications, giving customers cheaper and easy-to-deploy solutions. Many startups in India have also come up solving the traditional problems in their new software systems. Companies such as CRMNext are a good example to mention here. In other words, the rise of new players and startups is purely the result of new tech trends.
Software market is today also driven by the consumption of new age technologies such as the datacenter modernization, cloud, internet of things (IoT), BYOD, etc. As the pressure on the traditional players in the banking, retail and FMCG, among others have increased to offer better and fast services, the demand for more agile technology have increased. Software market is often caught in the demand cycle. In FY 2016, most of the Indian customers are moving to digital technologies. Indian companies are vying with global counterparts to offer services. Indian banks have begun movement to the digital platforms in the wake of the wallet war in the Indian market. Thus, digital has influenced the software demand in the country in a big way.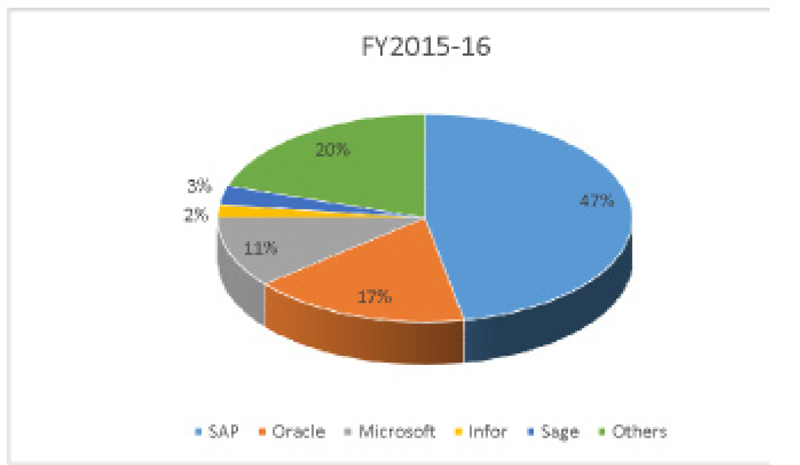 Because of the scattered nature of software market in India, it is difficult to decide the software leader in the market. Microsoft has a sound presence in all segments – be it end user computing, be it enterprise software and be it cloud. While it is a leader in the overall market size, it stands way behind in the enterprise software space. SAP leads the enterprise software market, followed by Oracle and others. Oracle leads the RDBMS market with no close competition at all. So the strengths of Microsoft, SAP and Oracle are different in the software space.
Volume in totality
Because of the growth of the Indian market, there has been a significant growth of the software market in the subcontinent. Many of the Indian firms have expanded globally. Plus, SMEs and SMBs have moved up the ladder by investing in technology. Keeping all factors in sight, the Indian software market is set to witness a growth of 12.8%. According to Gartner, "Indian software market is likely to witness a growth of 12.8% and will reach $5.3 billion in 2016."
However, Gartner numbers also include the end-user computing which means the revenues of Microsoft Windows are also included in this. Even though Microsoft's windows revenues are declining fast, it still is a large chunk of the market. In addition, it includes the revenues of the different segments. However, there are other components of the software market that increase its size and scope.
According to Gartner, 'In 2015, the Indian economy has shown signs of resurgence, with increased efforts by the government toward ease of doing business, which has triggered a significant increase in foreign direct investment (FDI) inflows. FDI inflows in 2015 have grown to $30.9 billion, a 27 percent increase year over year. It is also evident that the Indian government is serious about leveraging information technology for effective governance.
Enterprise software size and trends
Enterprise software market, as discussed earlier, is shaping up in sync with the demand trends at the user organization. Organizations in India want to know how to use digital technologies, services and disciplines to create new growth opportunities. Businesses are getting ready to digitally transform, creating new organizations, and leadership roles. This transformation is generating varying degrees of adoption, experimentation and spending in the newest technologies. Branded companies that sell to consumer markets are more rapidly purchasing and adopting digital applications to expand their digital footprint and strengthen their competitive positioning. Increasingly, Indian enterprises will be evaluating emerging technology solutions on innovation and business impact rather than cost and ease of deployment. Most of the vendors – SAP, Oracle, IBM, HPE, SAS, Salesforce.com,etc – endeavored to reap on the digital wave in the country.
The growth is much better than the previous year which witnessed merely 8%. Digital transformation has been the biggest reason behind this growth. Large banks moved to digital platform, in an attempt to optimize their services. In addition, retailers and etailers also made IT investments in the future technologies.
Several leading trends that are common across the India software market include: 1) Software as a service (SaaS) adoption and development, 2) Open source software (OSS) adoption, and its broader market implications, 3) Changing buying behaviors and purchasing styles associated with digital business and the digital India initiative of Indian government, and 4) Demand for specialized software vendors that can deliver on the digital business vision.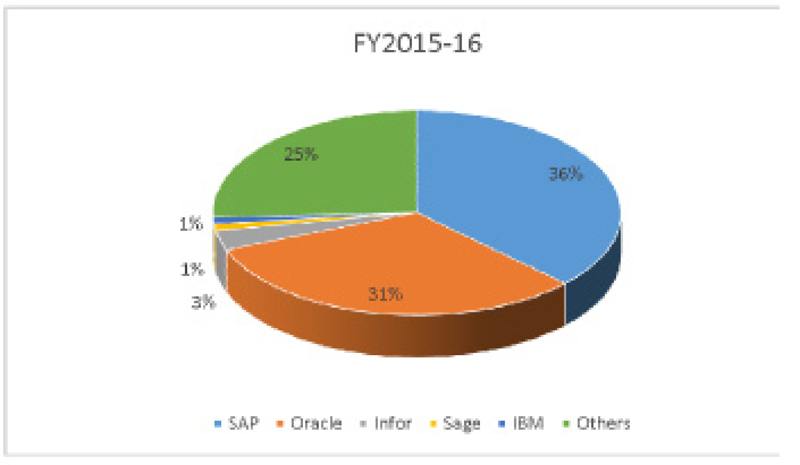 Enterprise applications market underwent a transformation since most of the players pursued customers in the midsection of most of the verticals. While there was a time when enterprise apps' market had slowed because of the tepid spending by Indian organizations, it has gained pace and become a lot more vibrant. Growth of the overall enterprise software market stands as a testimony. This is after a long time when the growth has moved to double digits. As discussed, thanks to the new wave of startups in the enterprise apps space. New startups and emerging players have added spice to the market through their targeted, core applications which are easy to deploy and do not need big setups. These players are wooing customers with their innovative solutions claiming to solve the age-old process-related problems in large enterprises. Sensing the growing competition, the traditional players are coming out with options and acquiring companies.
All in all, the enterprise software marketplace has become even more dynamic as its growth and structure are being shaped by the factors and forces of decentralized purchasing, consumerization and mobility, influence of emerging markets, cloud-based implementations, and new consumption models. Mainly enterprise resource planning (ERP) software, customer relationship management (CRM), supply chain management (SCM) and Business Intelligence (BI) or analytics software are part of the enterprise software ecosystem.
This year, the spending was also driven by government as the Government of India formally kickstarted the Digital India program. Several states began to move on the modern IT platform. It is believed that the government spending will increase this year as well.
The top business priorities for Indian users have been: 1) increasing enterprise growth; 2) delivering operational results; 3) improving profitability and margins; 4) improving IT applications, infrastructure, legacy; and 5) consolidating business operations. These priorities led Indian enterprises to increase their IT spending. Overall positivity in the market in the regime of the new government added energy in the market and inspired organizations to invest in IT and improve their processes. If Gartner is to be believed, optimism regarding spending within Indian organizations reflects confidence in India's regional economic performance, as well as the need to adopt better technology to effectively compete in a tougher global environment.
Gartner also believes that in the next five years, priority areas of software spending will include web conferencing; teaming platforms and social software suites; enterprise content management; customer relationship management (CRM) and security. Indian organizations favor the cost-effective use of these technologies before embracing these tools. It often leads them to make a quick decision on buying any application.
Indian ERP Market
The Enterprise Resource Planning (ERP) software remains the first choice for large enterprises as they are faced with multiple organizational challenges and have to deal with day-to-day business complexities. Unlike the previous years, the growth of ERP segment has gone further. Major verticals such BFSI, retail, healthcare and manufacturing, mid-size companies embarked upon the ERP journey. While SaaS and cloud dominated the ERP segment, on-premise ERP did not vanish at all. There were companies which continue to invest in on-premise ERP solutions, One of the tyre manufacturer put its money in the on-premise ERP recently. However, better licensing and pricing models on the cloud led software companies to tap the mid-size players. Players such as SAP, Oracle, Microsoft and others closely worked with their partners to deliver cloud-based ERP. Microsoft set up three of its datacenters in the country in order to gain traction in the government.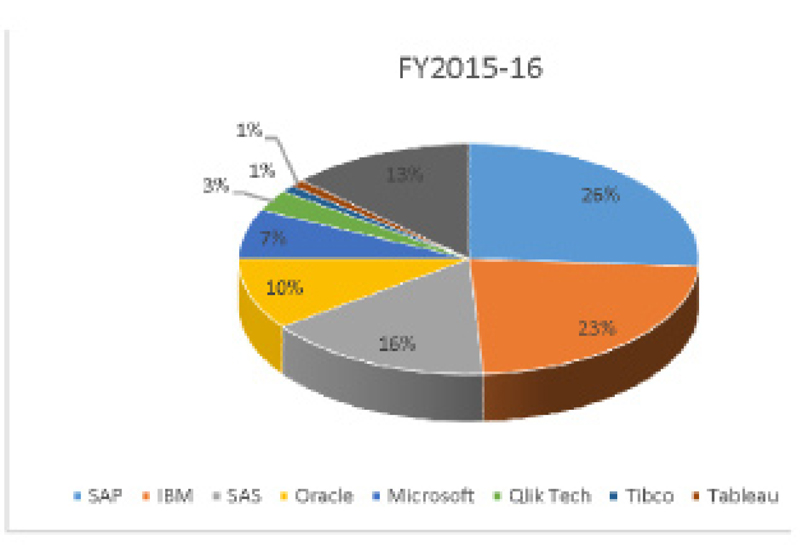 Another reason why the ERP software market witnessed positive rebound was the improvement in global economic conditions. The ERP software market witnessed double digit growth. Overall the size of the enterprise software market stood at (as per Dataquest) Rs 2699 crore with 12% growth. It is much better than 8% growth the previous year. It is poised to improve in the on-going year because of revived buying and increased spending. The overall marketsize in FY 16 remained Rs 2699 crore. SAP remained an undisputed player with 47% marketshare. Oracle continues to follow with close to 17% marketshare followed by Microsoft and others. Interestingly Infor also tried to gain momentum in the ERP space as it went ahead to acquire a host of new customers for its solutions.
CRM Market
Customer relationship management is growing rapidly across organizations. It is evident from the fact that several SMEs, SMBs and startups invested in SaaS-based CRM solutions. Large enterprises continued to invest in CRM technologies so that they can offer better services to their customers. Ecommerce has been one of the frontrunners to invest in CRM. Even BFSI organizations continued their CRM investments. The CRM market grew to Rs 2690 crore with 14% growth rate. It is an encouraging growth. Even small organizations want to be ahead of the curve to serve customers in the best possible way. Microsoft and Google tried to reap on the opportunities in the mid-segment.
FY16 witnessed interesting implementations in the mid market by all players such as Oracle, Microsoft and others. Oracle and SAP seemed to have broken the premium tag which used to shoo customers away.
Supply Chain Management
Delivery of goods is a big question. Many companies in the logistics, FMCG, ecommerce and manufacturing put their money in the SCM solutions. Thus, Indian Supply Chain Management and procurement applications market sustained its growth with more than 15% growth. According to an analyst firm, the SCM software market witnessed robust growth through sustained application demand, as supply chain continues to be a key source of competitive advantage in driving business growth objectives.
India's SCM software market stood at Rs 1619 crore in FY 16 from Rs 1412 crore in FY15. SAP continues to hold onto the top spot with 36% marketshare, closely followed by Oracle with 31%. Infor, Sage and JDA Software also consolidated their position in the supply chain market.
Overall, the SCM market is fragmented as there are several small players. Plus, many enterprises continue to rely on open source alternatives. The fragmented market points out at the growth opportunity in the SCM space. New business models such as cloud and SaaS are significantly changing the supply chain market.
Indian Business Intelligence market
Indian business intelligence (BI) software revenue reached at Rs 1780 crore in FY 16 over Rs 1548 crore in FY 15 with 15% growth. Big data and analytics are becoming a topic of serious discussion in Indian organizations as they want to be able to predict, prevent something and take informed decisions.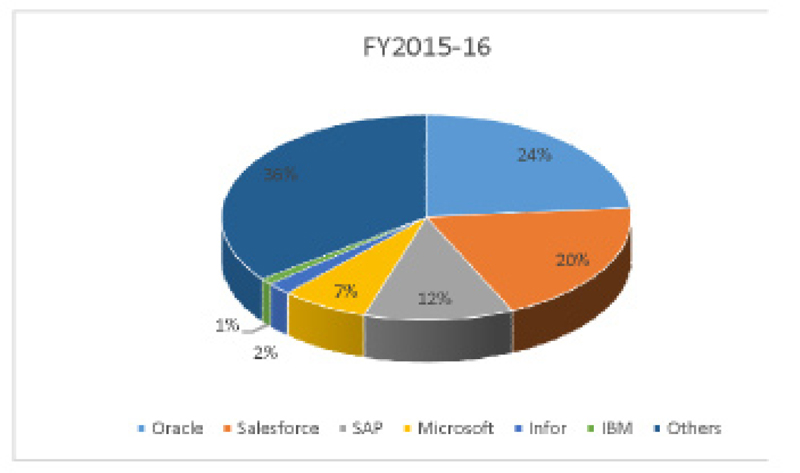 The BI and analytics market has majorly been influenced by the development of mobile, information, cloud and social media technologies which are disrupting the market. Self-service analytics engines are disrupting the space as organizations are able to deploy and use analytics on their own unlike before when the traditional BI tools could only be handled by an expert in the organizations. Players such as Tableau and Qlik are offering customers freedom to choose and deploy analytics quite easily. Tailored solutions for verticals are proving to be another advantage as mid-size players are able to use them and take insights into their business.
In India, there are several BI and analytics players. However, the market is led by SAP with 26% marketshare followed by IBM (23%), SAS (16%), Oracle (10%), Qlik Tech (3%) and Tibco (1%), among others. The BI market also reserves a great opportunity for vendors as this is largely a fragmented space where several players are active and trying to innovate with their applications.
India's software market is set to move further in the wake of the government spending in Smart Cities, Digital India and Make in India program. Besides, organizations are keen to upgrade their systems. However, the demand is majorly driven by small businesses and startups. This is an exciting time for the country and so for the software market. In this segment we refrained from the service market as it is focused on the global markets rather than the Indian market. We also did not focus much on system software market because it is purely driven by end user device consumption. In this section, our focus was primarily the enterprise software market.