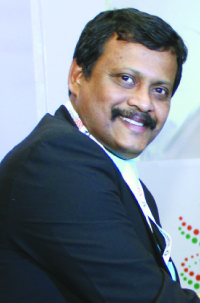 We are delighted to bring out the fifth edition of the Brand Book. The Brand Book speaks volumes about the Indian ICT (Information & Communications Technology) industry. The Brand Book is a research-driven Coffee Book which provides a unique reference material for IT and telecom companies to chalk out annual strategies and adopt their go-to-market approach.
The IT industry is radically transforming the business landscape in various sectors and digital transformation is disrupting businesses in every industry by breaking down barriers between people, businesses and things. By breaking these barriers, they have been able to create new products, services and find more efficient ways of doing business. It is an absolute fact that technology is an enabler to build smart solutions for rapid growth. Industries in India are, therefore, aiming to build cutting-edge technology solutions and services that will shape the digital revolution. Accordingly, the Indian ICT marketplace is going to experience substantial shifts in the coming days by taking recourse to aggressive market surveys to understand the consumer's behaviour. Going forward, it is essential for the brands to grow every day and moment with the emergence of digitization and social media having a great influence in keeping the brand alive. We want to make sure that brands capture new audiences while keeping existing customers loyal and happy. This book will help you envision how brands are evolving and will serve as a guide for implementing technology solutions in your organizations. It has also been seen that by providing a seamless omni-channel experience to each customer – across every channel of interaction – digital businesses are winning increased customer loyalty. At the same time, they are gaining deep insights to improve products and services and predict future purchases. As a result, customers have access to consistent information and receive delightful experiences along each step of the customer lifecycle and serves as a ready-reference tool on the leading players in the ICT sector. It is a fact that all buying cannot be done by rational approaches but also a great percentage of it is done through emotional approaches. In addition to this, emotional connection can have a big impact on the business.
Secondly, out of the various opportunities in India, Digital India is one of the most exciting initiatives in the country for the simple reason that it uses technology as a great leveller for the citizens of India. Given the huge divide between rural and urban India and the digital haves and have-nots, the Prime Minister's vision to make India a digitally-literate country can leverage technology for endless possibilities.
I extend my heart-felt thanks to all those who have voted and especially to those who participated online via social media and have given their feedback on the survey. The listing in the Brand Book is considered on the parameters that are based on high recall value, brand awareness, brand image and customer experience, brand performance and brand association. In consonance with the priorities laid out in its earlier avatars, this issue will go the extra mile to reach the Indian Government, Enterprise and SME sectors in the country.
A big thank-you to all the corporates which have participated. In this issue, we are bringing the Indian marketscape (providing in-depth quantitative and qualitative assessments of technology vendors for a wide range of technology markets) and it speaks about the comprehensive assessment of market competitors, delivered in a full length research report and provides you with the critical information necessary to make your most important technology investment decisions on Hardware, Software, e-Commerce, after-sales support and Mobility/Telecom sector in India. With respect to the section on "Digital India", we have tried to bring the eminent personalities together with their strong belief on how the country will be benefited from digitization and for making Digital India a grand success. Most critically, it is built on a set of recommendations that do not just reaffirm what we already know, but open the doors to ideas we are yet to encounter.
I look forward to your feedback about our publication as the team has put in a lot of efforts to provide information on various Indian technology leaders who have played and continue to play key role in the transformational journey. Moreover, for the first time since our inception over 17 years ago, you will be able to experience all aspects of our magazine (VARINDIA). I am extremely excited and proud to share with you the launch of CSR-based publication "SPO INDIA", that has been in the works for almost a year.
As always, please remember to post your regular brand communication messages to us.
Deepak Kumar Sahu
Publisher & Editor-in-Chief