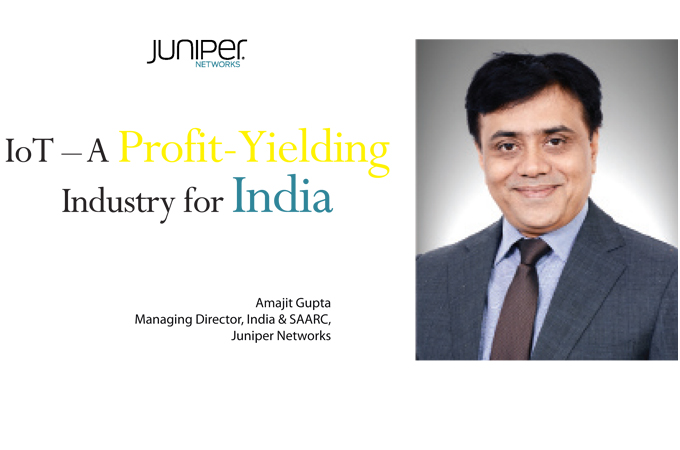 The Game Plan
Particularly due to the nature of Juniper's business, and the deployment scale of its equipment, a large part of business strategy revolves around its partner/channel programmes and efforts in partner marketing. As a deliberate strategy, the channel has always represented the bulk of business, and Juniper counts on the entire partner ecosystem to help them get the best solutions in the hands of their customers. It is a strategy which is built on three business pillars intended to drive growth of Juniper Networks. Respectively, these factors are – the ease of doing business, next-generation high-growth areas as well as profitability.
Juniper continues to invest in the next-generation high-growth areas in a bid to exponentially accelerate revenue, which include verticals including Private, Public and Telco Cloud, Data Center Transformation, as well as Security and Software-Defined Networks. In addition, it has also increased the rewards for partners trying to build a strong relationship with Juniper, through initiatives such as the Juniper Market Development Fund (MDF), rebates and incentives and simplified financing, among others.
Emergence of the Digi-Era
Networking technologies remain fundamental for digitization campaigns. The recent projects undertaken by the government in order to create digital ecosystems that improve citizen-centric services, governance and efficiency of cities all rely on strong network infrastructure.
Juniper Networks see immense opportunity in the critical need for innovation in these spaces. Key network infrastructure requirements when it comes to projects of this magnitude would include the scalability of the network in terms of handling an exponentially increasing number of devices and data traffic, maintaining network integrity to ensure all data is secure, as well as the ability to keep in check operational costs involved for ongoing maintenance and future upgrades.
Juniper Networks' SDN-based solutions and its commitment to network virtualization aims to increase performance and automation, and to significantly improve the levels of efficiency for organizations looking to scale out their operations.


In addition to the introduction of high-speed internet across the country for the telecom revolution as a key priority of Digital India, significant opportunities present for the proposed development of affordable, reliable and competitive ICT infrastructure, optic fiber and wireless technologies will also represent a first-of-its-kind endeavour on a scale never seen before globally.
The Differentiator
With a strong presence in India, especially with regard to research and development facilities, Juniper has been operating as a company in India since 2000 and was one of the first networking companies to hire silicon designers and developers in India. It has India Excellence Centre (IEC), which exemplifies its commitment towards world-class R&D and has played a crucial role in Juniper's larger IT innovation on a global scale, counting pivotal roles in the design and development of numerous successful Juniper products from the MX series router to the Q Fabric solution for the data center, among others.
With over 2,500+ employees and 1,500+ contractors (over 25% of its global workforce, and over 40% of its R&D global workforce), IEC is a key driver of innovation and growth, working alongside customers, product engineers and the market alike to significantly advance its vision of connecting everything and empowering everyone.