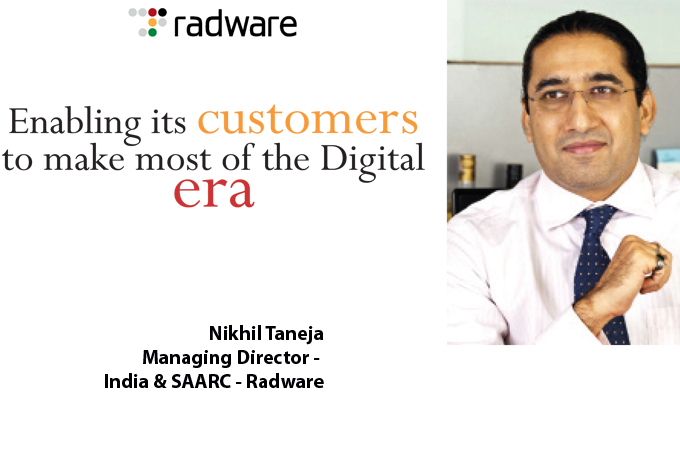 The Game Plan
The heart of any business success lies in its marketing and it is perhaps one of the most important activities in a business as it has a direct effect on profitability. With the digitization of everything in the recent times, digital marketing is taking the marketing to a new realm and the future of it clearly lies in digital. Hence Radware's focus will be on embracing this new age marketing technique to keep up with the "connected" consumer and achieving business objectives using this digital medium.
While digitization is essential in today's highly competitive market, it also comes with its own challenges. Radware's strategy would be not only to encourage its partners and customers to embrace digitization but also to make them aware of the side effects of it and secure them from any such side effects by providing them with right technology and education. Radware's positioning would be as a digital frontrunner showing the way for digitization with sound security.
Emergence of the Digi-Era
Thanks to digitization, companies across industries are racing towards an always-on, real-time model. Digitization is rewriting the rules of competition. Some organisations are redesigning their capabilities and operating models to take full advantage of digital technologies while others are creating qualitatively new business models and tremendous value around disruptive digital technologies. The Digital India initiative by the Government of India further strengthens the momentum in the country.
While this shift towards digitization brings in world of opportunities, it also brings with it inside/outside threats for organisations of all sizes making it a double edged sword. As an information security organisation, well poised to take this new trend in its stride, Radware continues to protect its customers' data. It sees huge opportunities in reaching out to more and more businesses and educate them on the effects/side effects of digitization and help them with right security solutions to enable them to make the most of the digital era.
The Differentiator
Radware has been consistently investing in R&D to keep up with the pace of innovation and come up with more innovative products and solutions. In the last few years, Radware has increased its investments in R&D significantly. For over a decade, Radware has been investing over 20% of its annual revenues in R&D and its R&D expenses for the year 2015 has been 23.08%. The company has made huge security R&D investments in recent quarters.
Radware has a R&D center in India as well and has been investing on more professional staff that will be collaborating with other R&D centers across regions to better provide fast emerging and diverse solutions suited to customer needs. This reflects Radware's commitment towards R&D. The competitors' infringement of its patents is a testimony to superiority of its technology.