India's ecommerce sector has gained momentum because of the rising Internet penetration in the country. As the connectivity and speed improves, ecommerce is going to get bigger
Ecommerce in India is one of the fastest growing sectors that has revolutionized the landscape of retail business in the country. But this has been possible because India has moved up the digital ladder fast in the last few years, thanks to the telecom boom in India. In the second place, smartphone adoption has been at the forefront of leading the digital revolution, enabling millions of young Indians in all parts of the country with access to the internet. Smartphone users today in far-flung areas are able to access the internet quite easily. Many of them have helped the ecommerce business to thrive. Online buying has moved up.
At present, myriads of business models have cropped up in the eCommerce space, attracting buyers from all parts of the country. The positive sign is that the Indian eCommerce has moved up to the next level and trying a whole lot of new things to keep the demand high and tap more geographies of the country. The first movers—Flipkart and Snapdeal—are muscling a lot with several new tactics to stay ahead of the curve.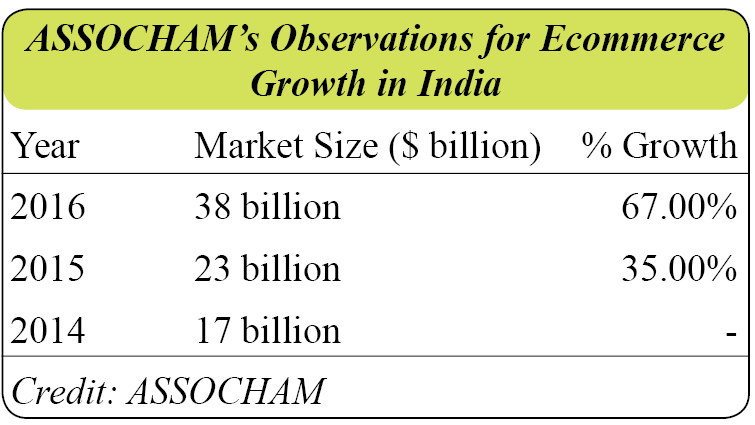 But this year, India's ecommerce space does not remain the same. There has been seismic shifts that have challenged the established business models and paved way for new business models. The first big thing that happened was devaluation of Flipkart by Morgan Stanley by whopping 26 %. This move not only sent shivers down the spine of ecommerce players but every startup which relied heavily on the investor money. The discussion is suddenly around being profitable so that the investor confidence is regained. Flipkart, Snapdeal, Shopclues and others have begun to work on a plan to profitability.
However, in this story, it is important that we fairly take stock of the startup ecosystem as well which have forced the established ecommerce players to change their strategies from time to time. Both Flipkart and Snapdeal have successfully gone past the startup phase and grappling with challenges which most enterprises face. However, in many cases they are facing challenges of profitability and regulation. Experts also believe that every growing sector faces challenges of this kind. Complexities grow as more and more players jump in the fray. It is probable that ecommerce companies continue to face challenges worse than this. But this will not be a big challenge as long as the size of ecommerce market is growing.
Boundless scope
Experts believe that India's ecommerce sector will continue to be a hotbed of activities. And this looks true as we look at ASSOCHAM's predictions and assessments. ASSOCHAM underlines that the ecommerce in the country is likely to be worth $38 bn by 2016, a 67% jump over the $23 bn revenues for 2015. It further says that India's ecommerce market went up to $17 bn in 2014 and to $23 bn in 2015. Exponential growth of this sector is directly linked to the internet penetration in the country. ASSOCHAM's numbers are a testimony to this fact. The ecommerce sector registered growth as the internet connectivity improved in the country. It is believed that all challenges will have little impact unless the market grows. Challenges at policy level, infrastructure level, and deep discount-led unsustainable growth are expected to be addressed overtime as the learning grows.
By 2020, India is expected to generate $100 bn online retail revenue out of which $35 bn will be through fashion ecommerce. Online apparel sales are set to grow four times in coming years. By 2030, more than one billion people are expected to be online, says the study. According to an expert, as the mobile telephony industry underestimated the exponential growth of mobile growth, expect that for the ecommerce industry too. India is the fastest growing economy and the largest millennial population—these two make for a heady combination to create an extremely large marketplace.
It is important that the variable factors—mobile telephony, Internet, and the love for shopping are taken into consideration while estimating the scale and possibilities in the ecommerce space. The average Indian loves to shop. With festivals almost every month, there is a plethora of things to buy, and gifts to be sent. Many ecommerce startups have built their platforms to tap various segments. Within fashion, there are a plenty of options for buyers – Jabong, Myntra, Zivami and others. Likewise the specialized stores have created audience for themselves. One of the interesting startups is Pumpkart.com, which is based in Chandigarh. It only sells pumps and motors. This online store has audience of its own which only wants pumps of different kind.
Grappling with new age business challenges
Indian ecommerce companies are facing all kinds of challenges. In the first place it might look easy to have market of this size today. Had the pioneers like Flipkart and Snapdeal, among others, not put in their best to attract consumers, it would have been slightly difficult to have market of this size today. Ecommerce players gave options of paying through COD and threw away a lot of discounts which the Indian buyers had rarely seen in the traditional retail.
Today, Indian consumers are slowly moving towards cashless transactions. However, it will take a long time for them to embrace credit cards for online shopping. Large number of users still prefer to opt for cash-on-delivery (COD). This often results into non-delivery. Besides, most of the startups are not able to move away into the small cities and villages. Untapped markets challenge even the established as well as big players such as Amazon.in, Flipkart, Snapdeal, Shopclues, and others. Many, among the ecommerce players, believe that long-term reliance on COD is not going to help the industry and so there is a need for the solution that could address this challenge of payments. Perhaps this is the reason that India saw the rise of payment wallets such as PayTM, Freecharge, Mobikwik, etc. Most of the ecommerce companies have tied up with the wallets. Snapdeal infact bought Freecharge. Paytm payments work with many ecommerce platforms. But mobile wallets like Paytm are also competing with ecommerce players. Paytm sells everything on its platform.
Besides, India's length and breadth poses a huge challenges to ecommerce players especially while the goods have to shipped from one state to another. India's tax structure is pretty complex and changes from one state to another. Different states have different taxes. It makes difficult for the ecommerce companies to sell a product with price across India. Consumers often react badly to the price difference caused by state taxes. It also eats up into the profits of ecommerce players.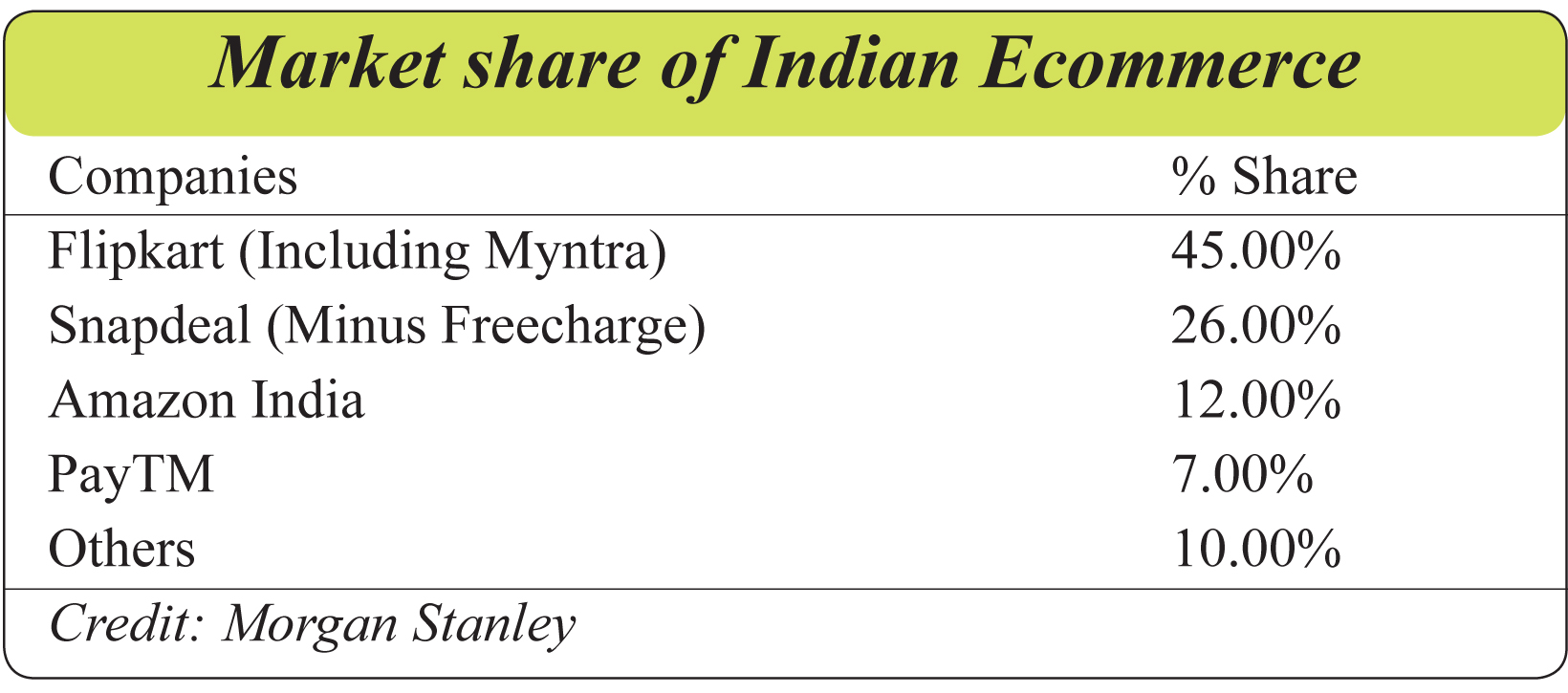 Most of the players in the ecommerce space are also concerned about reaching out to the last mile consumer. They are struggling to figure out how they can reach out to people in the distant locations. Experts believe that ecommerce startups quickly need to solve issues such as managing delivery costs, order cancellations and order returns in order to stay in business. Many of the small players are not even able to provide 24*7 customer service, which is an area of concern.
Far from Profits
Flipkart recently faced the biggest backlash when Morgan Stanley marked down its stake to $103.97 per share, 27% below the price of its last fundraising round. Last year, Morgan Stanley had valued Flipkart's per share little over $142 per share. In a flash Flipkart's valuation came down to $11 billion from $15 bn. Experts believe that this was long overdue as the company did not show its investors a path to profitability. Almost every ecommerce company in India is not even closer to profitability. Amazon globally did never make profits. Only one ecommerce company has gone public in India which claims that it is profitable. It is Infibeam which earlier this year came out with IPO. But Infibeam's model is a little different as they have increased their dependence on their technology and hosting business. All in all, it is important for ecommerce companies to find out ways to make profits sooner or later.
Technological challenges
Technology has been the greatest driver of ecommerce sector. In other words, it is only technology which have empowered the ecommerce players to tap consumers in every part so quickly. However, it has been a challenge for many online shopping websites to handle growth and increase in traffic flows during the festivals. This problem was also faced by Flipkart and Snapdeal in 2014 during the Big Billion Day sale around the Diwali.
Experts say that these etailers need to make systematic investments into building robust IT infrastructure or they need to work with solution providers who can promise maximum uptime. Ecommerce is much more than the bare website or mobile app. Smooth functioning of these platforms plays a big role in the growth of any etailer. In order to get true insights into customer behavior and what is trending, online shopping stores need to make ample investments in analytics and big data. Besides, they have to make choices between platforms for their business.
100% FDI in ecommerce marketplaces
Recently the Government of India allowed 100% FDI in eCommerce, although it is only in the online marketplace. It is believed that the decision will impact the likes of Flipkart which have long lobbied against the FDI in ecommerce in India. New guidelines are expected to allow Alibaba to make full entry into India. Possibilities are that Flipkart might lose the leadership position in the Indian market as mightier players like Alibaba which has already invested in PayTM might change the face of Indian ecommerce. "New DIPP guidelines clarify Government stance on FDI and ecommerce markets, addressing several key issues like price regulation and service liability. This lucidity will assure and motivate big retail giants to invest in India, and that shall consequently help more local sellers extend their reach online, thus leading to overall growth of the ecommerce sector," outlines an ecommerce startup. In other words, this will add more competition in the market which will be good for start-ups who aim to simplify online shopping space. Even the fate of Amazon and others needs to be seen as they may have to change their existing business strategy.
Ecommerce in India is still at a nascent stage, if experts are to be believed. In the coming years, this sector is expected to witness a huge growth as Assocham observes in its report. As smartphone penetration improves with the good speeds of wireless broadband in India, it is highly likely that consumers will prefer to use ecommerce platforms for their daily needs. According to Morgan Stanley, India received $6.6 billion in venture capital and private equity investment in 2015, a 50% increase from the previous year, which probably contributed to a steep growth in the gross merchandise value for ecommerce companies in India. It also added that the GMV of the country's top three ecommerce companies exceeded that of the top 10 offline retailers last year in India. Given these figures, it is expected that the ecommerce is going to further increase. However, it is possible that there are new business models that emerge in the market.