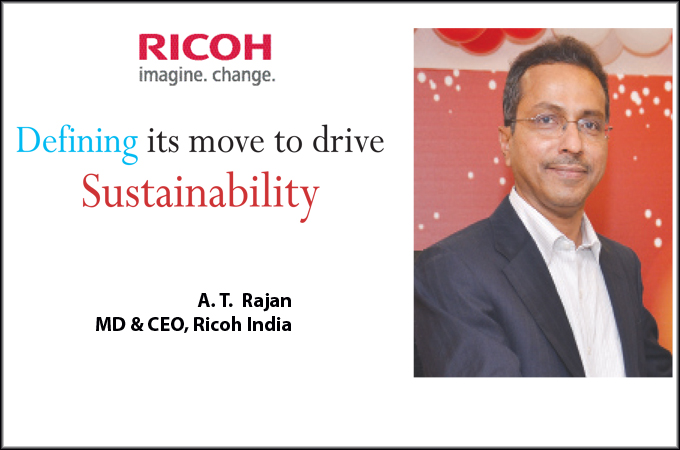 The Game Plan
Marketing is an integral part of any corporate strategy and business plan in any organization. A clear understanding of the customer's needs and expectations, technological developments and changing trends in socio-economic characteristics – all these form the basic role of a marketing manager that will enable them to segment the customers, position the brand and products and develop a targeted communication strategy.
Ricoh's go-to-market strategy has always been centred on its customers – understanding their workflow, identifying their pain points and providing them with customized solutions. It will further strengthen this as a vertical sales approach, introducing more solutions according to the specific industry needs and using 360-degree business approach as a one-stop solution provider.
Ricoh is also committed to providing excellence to improve the quality of living and to drive sustainability. Its portfolio of services helps in bringing efficiency, so that one can do more with life.
Emergence of the Digi-Era
Digitization leads to increased productivity, efficiency and drastically reducing the costs. But, more importantly, digitization provides scalability. For IT solution and services providers like Ricoh, digitization provides tremendous business opportunities in various verticals such as BFSI, education, manufacturing and healthcare.
However, significant opportunities lie in G2C services, where the Government is leveraging technology to bring a difference to the lives of the people. Inclusive banking through modernization of the Department of Post, digital classrooms through ICT, or UID project – all these exemplify incredible opportunity in this area.
With the rapidly-changing technology landscape, Ricoh sees wider applications in IT and IT services. It foresees substantial growth opportunities for providing solutions integrating technology with work practice in specific industries. This also means huge opportunity in providing end-to-end solutions to industries across manufacturing, education, healthcare and IT services.
In an ICT-enabled world, the definition of urban and rural in itself will become blurred. Ricoh has already seen evidence in the fact that ITeS companies are moving to Tier-II and -III cities. With more enablement of ICT and emergence of smart cities, this trend will only continue, but more rapidly.
New Trends shaping up
In today's business environment, Ricoh sees more and more customers opting for Managed Print and Document services, which clearly shows the focus on increasing efficiency rather than just focus on reducing the purchase cost. There is a definite trend towards pay per usage which gives flexibility to increase or decrease fleet as per organizational needs. As more and more companies are moving towards "work at anytime, anywhere" concept, the conventional definition of collaborative communication is changing. Needless to say, these are also complemented by the technology trends, such as mobility, cloud service, security and sustainability.