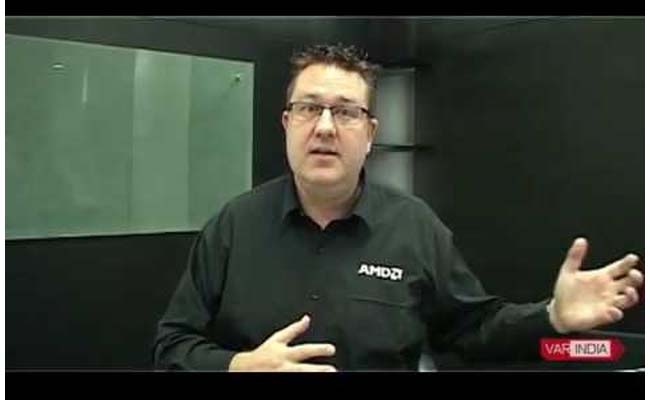 India is an important market for AMD as far as the expansion of OEM partnership and the growing gaming category is concerned. Throwing more light on how AMD is growing in the country, Peter Chambers, Director – Consumer Sales, Asia Pacific & Japan – AMD shares with VARINDIA the various aspects of its growth in the India market –
India is a focus market for AMD; it is a big focus at the moment from the entire APJ region perspective. The investment coming is also a significant one. AMD's history has always been marked by a commitment to innovation that is truly useful to its customers. Its legacy is and will continue to be built around delivering high-performance products at competitive prices that offer high functionality and provide the best experiences possible.
The 7th Gen APUs are the latest consumer products from AMD. "AMD is quite excited to be launching these new APU products as we see up to 50% improvement in CPU performance over the past two years. We are bringing great innovations in these products. As we see the world trending towards video streaming, we have enabled hardware acceleration that gives the customer a great experience when streaming content. We are also seeing extended battery life in these products. From the memory standpoint, the products will support DDR4 memory, which is another great innovation. Our Radeon graphics continue to provide exceptional performance that not only provides great experience when gaming but also accelerated performance to video editing," explains Peter Chambers, Director – Consumer Sales, Asia Pacific & Japan – AMD.
In the gaming segment, AMD is quite excited with its new RX series graphic cards. The company focuses on bringing performance graphic cards to the masses, enabling mainstream gaming performance at a level that has not been seen before. It is focused on those buying US$100-300 graphics cards which is 84% of the market, where majority of its business is happening and is adding value to that space as a major player. "We have defined the Radeon RX line-up with feedback from gamers and enthusiasts who use our graphics technology. The Radeon RX series are premium cards with compelling features that will entice enthusiasts worldwide. Our focus on R&D also enables us to bring great products to the market," says Peter.
The Channel…
The channel is very important to AMD, considering the fact that they are the life blood of its business and is the last mile connectivity with its customers. AMD relies on them for its market penetration and reach. "However, when talking about our partners, it's not only the channel partners who sell our productsthat we consider but also the OEM partners with whom we work and without whose products it's impossible to enable our platforms. In the last 6 months, ourlevel of engagement has changed," points out Peter.
The number of platforms that have been brought to India has broadened and so has its engagement with all its OEM partners. "AMD has recorded 3 consecutive quarters of growth and we are thankful to the channel for that. The channel is everything for us,"he says.
There are a number of different things AMD has been doing to grow the channel.The first one is to give them the right products to address different segments of the market. "This has been a key to the success of AMD partners. The next step is to improve coverage and engagement with partners, for which we find education as an important element. We want to help enable sales people and partners by providing adequate training and education so that they sell the products with a value proposition to the customers," Peter adds.
AMD today works with OEMS like Acer, Asus, Dell, HP and Lenovo. Both the consumer and the commercial segments are growing for AMD; commercial is particularly growing because the number of platforms and the OEMs who are supporting it to grow are increasing.
Talking about the channel programs and schemes, this is something AMD has been working on for the last couple of quarters and are going to continue in the coming quarters as well. "There are a number of initiatives we are doing to empower our channel and inculcate the confidence in them to sell more. Face to Face training, online webinars are some of the ways through which we connect with the channel on a regular basis. We are starting to conduct monthly meetings with partners in which we bring experts who are subject matter experts from our head office, whether it is gaming, graphics or any other components. The primary objective is to make available technical expertise and knowledge to them, besides bringing the partners and the AMD team under one roof. We also give them the scope for value addition in our products while selling them to their customers," Peter concludes.
Going ahead…
Growing the base and bringing the channel partners on board will be an important focus area for AMD. The company will try to offer the best return for its channel on its products and also deliver product differentiation that will set the tone for a healthy competition.
samrita@varindia.com