The Game Plan
Aircel is a challenging brand and strives to constantly innovate and create products and services which are based on customer's requirements. In a bid to achieve this, Aircel always believe in "doing a little extra" for its customers and hence have adopted a holistic marketing approach to reach out to target groups and offer them value in all its products and services.
At Aircel, Customer Delight initiatives are built around the philosophy of "Care, Serve, Delight".
• Care – Ensure that customers are easily able to reach out to Aircel on any channel that they find easy – Call Centre / Stores / Social Media / Self Service channels of SMS/USSD/IVRS or through any retailer
• Serve – Ensuring that the basics of service are delivered seamlessly across all these touch points through trained staff, world-class customer support technologies (Cisco/Siebel) and consistency of process delivery checked by a "Maker / Checker" system that samples customer service transactions on a regular basis through supervisors /auditors /managers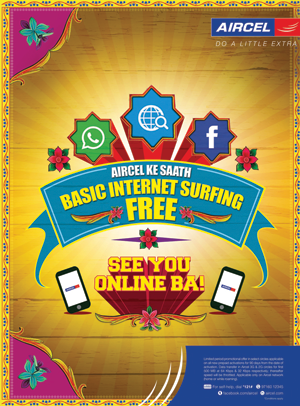 • Delight – Developing new ways to provide personalized touch to customer segments – Relationship Managers for high users / special service enabled touch points in each locality/BTS – Aircel Seva Kendras for those that need "doorstep" support in local dialects, etc
For serving customers in the rural/semi-rural and urban fringes for service, the company has adopted a B2B2C approach since customers in these geographies need a "high touch" interaction point in "local dialects". Aircel has enabled local neighbourhood retailers (called Aircel Seva Kendras) to become the front face to customers in a particular geography for level 1 support, while getting accelerated backend L2/L3 support from us and created over 11,000 Aircel Seva Kendras.
Emergence of the Digi-Era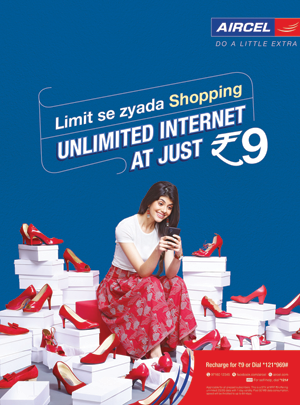 IT is the backbone of mobile telephony from simple recharges to mobile payments. All functions revolve around the IT function. With deeper understanding of various innovations and platforms, it can give a serious competitive advantage to any operator. Newer growth is clearly being defined by the Social Media and e-commerce today, and both have strong linkages to increasing consumer usage and evolving consumer behaviour.
The Differentiator
As per capita and disposable income continue to grow in India, all businesses will have to increasingly adopt to demands based on greater urbanization and changing lifestyles. In addition, companies will have to constantly search a "best fit" with products and services in the new age of viral social media and e-commerce.